KEY TAKEAWAYS
Invest in or optimize current communication tools and standards in order to reduce staff confusion and keep all stakeholders informed, helping to eliminate pain points.
Establish proper tools and documentation of processes and standards for monitoring productivity. Organize your file-sharing systems and stick to regular, predictable meeting times with a clear structure and process.
The right tools, digital channels, and technology help to effectively generate more leads. When considering your overall marketing strategy, keeping the buyer's journey in mind will help your team better understand how to push traffic, generate sales, and drive conversions.
Choosing the right tools, identifying new job roles, and increasing your reporting for your back-office operations will help streamline your process. 
The spread of coronavirus has changed the way people work and live, short-term and long-term. For the foreseeable future, it has forced companies to adapt or become obsolete. 
With more than 175 countries affected by coronavirus and numbers that continue to rise, the devastating emotional and financial changes across major industries will completely shift day-to-day life and business. It has become painfully clear that the world post-coronavirus will look starkly different than it did in 2019. 
As coronavirus continues to shift in-person business to digital platforms, companies need to adapt to stay afloat. Businesses first and foremost need to stem and minimize immediate losses, but they also need to plan ahead and invest wisely in preparation for the eventual reversal of the downturn.
According to the Harvard Business Review, the companies who… 
... master the delicate balance between cutting costs to survive today and investing to grow tomorrow do well after a recession. Within this group, a subset that deploys a specific combination of defensive and offensive moves has the highest probability—37%—of breaking away from the pack. These companies reduce costs selectively by focusing more on operational efficiency than their rivals do, even as they invest relatively comprehensively in the future by spending on marketing, R&D, and new assets. Their multipronged strategy…is the best antidote to a recession.
Here at CPL, our team has been focused for years on helping our clients to drive efficiency in business and marketing in an omnichannel world. Because of the nature of our specialties, we have participated in client work related to valuable strategies that have come in handy for current shifts in the marketplace. These strategies have worked for our clients across different industries, so we wanted to share them with you in the hopes that they will help assist your business transition during this hectic time.
Update: We have created a free, 20-page white paper more thoroughly addressing the topics covered in this article. You can download it here.
When considering the impact of the coronavirus, it is very likely that much of the information, advice, and scope of current predictions will change within weeks, if not days, of the publish date of this article. That being said, there are some tried and true methods that will effectively help to transition your business to remote work and shift the heavy focus of your in-house stock to the online market.
The Sobering Reality
Fact: The day-to-day reality of business is going to change. Whereas before, online sales made up only 16% of total sales in 2019 (although steadily growing every year), a huge forced shift has already begun taking place.
With forced isolation and quarantine at play, stores have been forced to shutter their brick-and-mortar locations and turn exclusively to their e-commerce platforms, without any support or know-how to jump over without time for a smoother transition.
Coronavirus has changed the way people will work short-term and long-term. For the foreseeable future, it has forced companies to adapt or become obsolete. 
State, country, and international quarantine and lockdown procedures could shut borders, affecting productivity and access to in-person marketing. It puts pressure on companies to switch immediately to an almost exclusively e-commerce platform, modifying existing marketing strategies and reversing in-house operations to remote work, all at the same time. 
There are going to be real effects. Companies need to be ready.
It is important as a company to look for the best and plan for the worst. While this could take days, weeks, or months to play itself out, as there may be rolling issues that keep popping up in months to come, consider your company's strategy for this transition. Be realistic in your desired outcomes. Consider that China has been quarantining Wuhan for almost 2 months already and it looks as though the United States might be facing worse circumstances.
It has already impacted so many industries: hospitality, travel, healthcare, tourism, and many others facing issues still not yet discovered. Travel and tourism will be negatively impacted for a long time. There is no changing the impact of this horrible virus, but companies can seek to better adapt to meet the inevitable changes.
It will also affect long-term business infrastructure and operations.
Company culture and operations will be strongly impacted, so you can consider strategies that help to compensate for the shift from in-person communication to virtual and remote operations. Staff roles may shift in their applications.
Your office manager, for instance, is experiencing a shift in the day-to-day task list; project managers now need to adapt in their steps of monitoring and overseeing tasks. Employee communication needs to be improved. Company policies rewritten. Internal documents edited and adapted for the changing times.
Do not despair.
Here at CPL, we have been focused for years at driving efficiency in business and marketing in an omnichannel world. Because of the nature of our work, the team at CPL has helped clients with valuable strategies that have come in handy for current shifts in the marketplace. Following are the lessons and strategies – we call them Pillars to Success – that have helped us set our clients up for success in an omnichannel world.
Pillars to Success
I. Communication 
When working remotely, communication is paramount. Since connection is so vital in a remote environment, ensure that you have established strong and structured pathways for regular, effective dialogue among staff and between team members and managers. This will streamline your workflow.
Weak communication channels result in lag time within steps between team members, as lost updates increase staff confusion and further company delays. Have you had to spend precious time following a trail of information only to get lost trying to locate the source of the pain point? This is bound to happen, but you can get ahead of the issue with good preparation.
Dedicate time to addressing issues in communication now, at the beginning of the transition, before more company time and energy are lost in bad work flow dialogues.
Quickly set up or improve channels with the proper tools, establish standards of communication that all staff must adhere to, and provide security to protect your company and all stakeholders.
1. Reduce confusion with good communication tools.
You can reduce the amount of time spent putting out fires by streamlining your communication with the right tools. If you do not have these tools in place, it is worth investing in them or spending time improving your existing tools to optimize employee communication.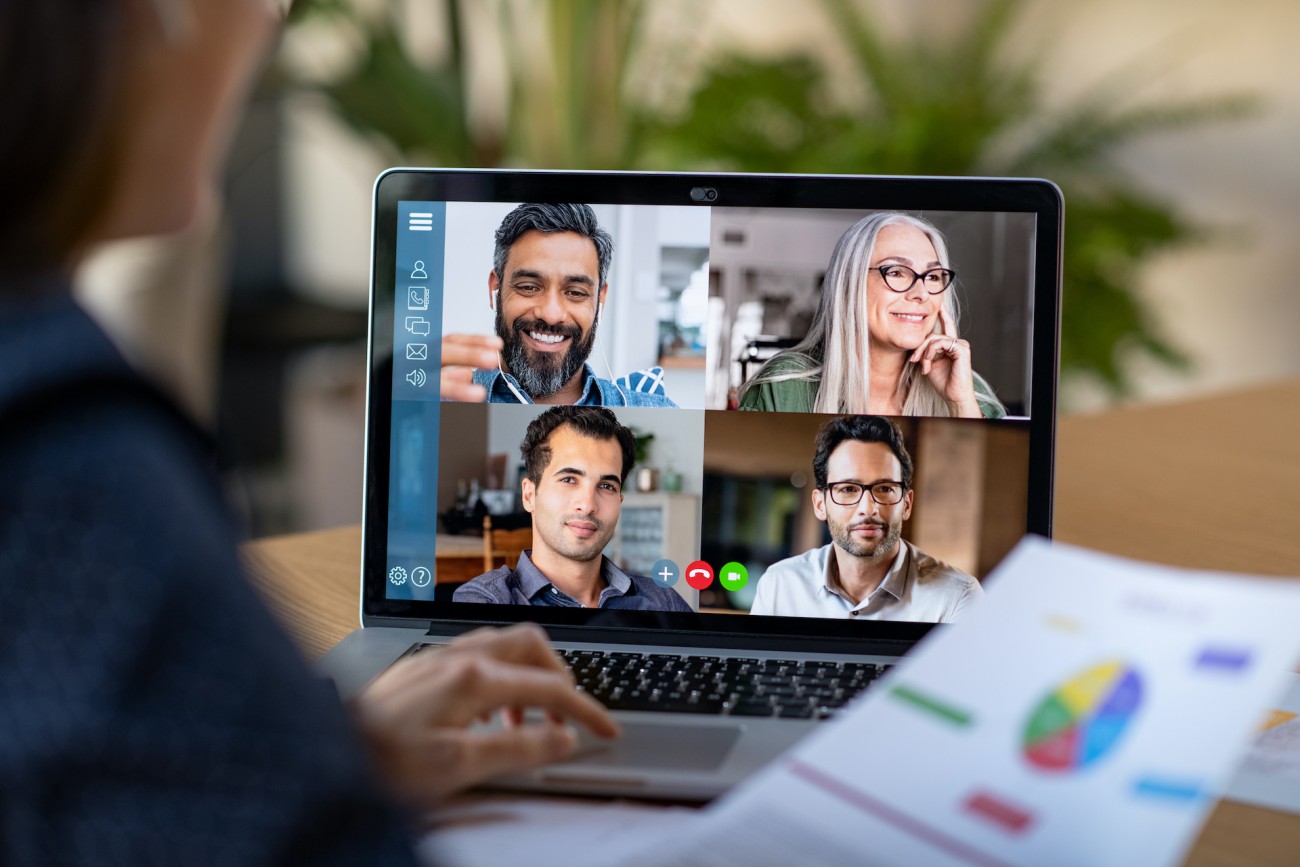 Tools
While WhatsApp works well for certain personal or even group chats and calls, it is by no means a replacement for proper company communication tools, which allow you to silo groups or teams into proper channels more effectively to encourage proper workflows.
Slack is an ideal communication tool for both teams and clients, as it allows for many functionalities. Designed to take the place of traditional email, its workspaces organize communications by channels for group discussions, in addition to allowing for private messages to share information, files, and more in one convenient location. Creating channels is easy for internal purposes and for use with clients. Slack features easy integrations with Google Suite and more.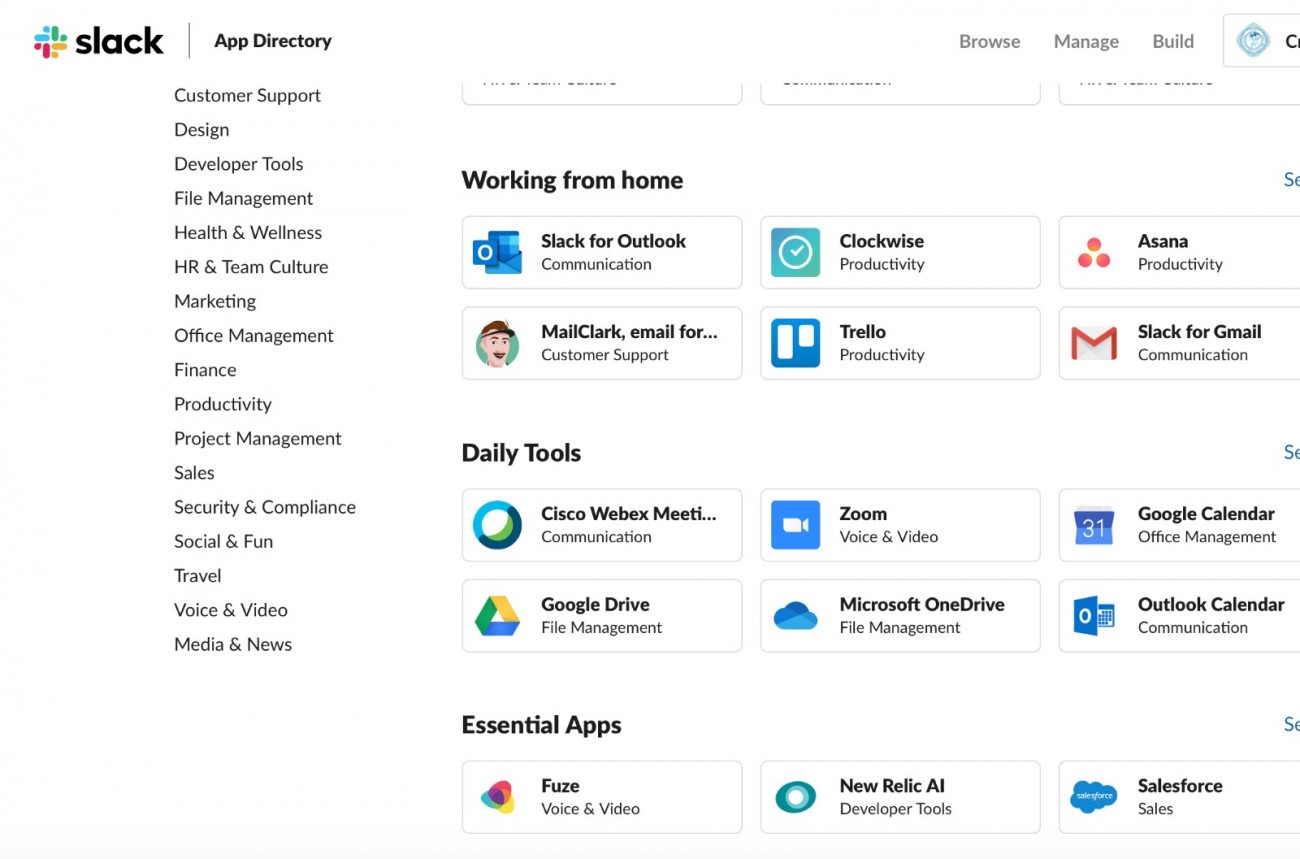 Slack features multiple functionalities and integrations with your existing apps.
Flock is a cloud-based communication tool for use in facilitating team communication with user-friendly features like video and audio calling, screen sharing, text chat, and easy app integration. It is suitable for businesses, large or small, across a variety of industries. 
Zoom is an efficient tool for both video and audio conferences, collaboration, chat, and more across digital media types. A Zoom meeting is conference room replacement, a virtual event with a host, which works for board, conference, huddle, and training rooms, offices, and classrooms. In the meetings, hosts can share hosting responsibilities with other participants, along with other abilities like screen sharing. Meetings can have up to 300 participants (and up to 500 with a large meeting license).
Google Suite is a well-known and well-integrated collection of tools that offers companies helpful solutions to many issues, including communication.
Google Meet is primarily a video conferencing application which organizes participants and scheduled meetings, integrating them with other Google Suite apps, like Gmail and Google Calendar, for easier, more streamlined work processes. With easy "join" button features, users can connect to the meeting and with options to mute and turn off the camera/video during the meeting.
Additionally, Google Hangouts Chat is a service where users can participate in text, voice, or video chats, individually or in a group. Hangouts are also built into Google+ and Gmail.
Microsoft Teams is a cloud-based team collaboration software as part of the Office 365 suite of applications. Core capabilities include business messaging, calling, video meetings, and file sharing. Teams can work for small or large businesses. According to Microsoft Teams, since January 31, they have experienced a 500 percent increase in the usage of Teams in China, with a 200 percent surge in mobile use. Overall usage of Teams had jumped just this month after COVID-19, from November's 20 million daily active users to March 19's 44 million daily active users.
Facebook's Workplace is a team collaboration app with convenient features and tools for facilitating work communication like the popular Facebook Groups, built-in audio and video calling for conferencing or meetings, Facebook Messenger, and more. With 2.5 billion people using Facebook every month, this app could help you find new customers and build lasting relationships with them. Additionally, you can market through Facebook with convenient ad formats and Pages designed to capture attention and drive action. They offer flexibility and the convenience of working across devices. They are built to help you reach your goals.
Skype is a software used by millions of individuals and businesses to make free video and voice calls for individuals and groups, send instant messages, and share files with other Skype users. It is a great tool for making initial connections with freelancers, contacts and business partners before moving communication over to alternate channels. This can also be used to reach contractors overseas, as it is also a popular international software.
WhatsApp Business allows companies to grow business online and easily interact with customers with the use of custom tools to conveniently automate, sort, and respond to messages quickly. Intended to be an easy transition from WhatsApp Messenger, WhatsApp Business has the appearance and feel of the original but takes it a step beyond for business use.
Virtual Phone Lines
As businesses will be out of the office for a long time, you may also want to consider combining and forwarding your office land lines to a service like Google Voice, a virtual phone system providing a free local phone number on your personal device. If your business needs more than what Google Voice offers, there are many alternatives to consider, like RingCentral. RingCentral is a business voice over IP (VoIP) service that is distinguished by its powerful conference calling capabilities, with additional video and texting functions.
2. Set Up Good Communication Standards
Establish clear, measurable communication standards.
These communication standards should be clearly outlined in document form, setting the guidelines for expected contributions over chat, email, and video conferencing when working from home.
Proper etiquette for communication provides measurable objectives to ensure that they participate and adjust to your desired expectations.
Without specific, measurable objectives, often the end goal is misinterpreted.
People often misunderstand the difference between professional business communication and leaving a personal text unanswered, as they are not synonymous. They do not understand the proper goals without specific language defining it thus.
When considering the transition to remote work, keep in mind the loss of physical reassurance when some employees are used to turning to coworkers for help. Now, that they cannot do so, they may feel confused, so setting up guidelines will help reassure those team members how they can lean on others in new, virtual ways for support.
Create an accessible document for standards and share with stakeholders.
Set up an 8-10 step policy for your expectations for communication standards. Be clear about employee time expectations, set specific times for meetings, establish checkpoints where bottlenecks can be prevented in order to truly streamline your productivity.
We have included some of the ones that our team at CPL finds most useful in helping employees maintain company standards.
Sample Remote Work Standards
1️⃣ Use Slack to announce yourself on your relevant #office-[name] channel when you log in to work in the morning, log out for the evening, and go on a break/lunch. Example: Off for 30 minutes. Mark your status available or away on Slack accordingly.
2️⃣ Do not rely solely on text communication. We encourage you to video call with stakeholders and teammates throughout the day to reduce errors and improve outcomes.
3️⃣ Follow call/video call etiquette. Wait for your turn to speak, do not talk at the same time as others, and mute yourself when not speaking.
4️⃣ Take notes during video meetings and calls so you remember what you want say when it's your turn to speak, and so you don't interrupt others as they speak.
5️⃣ When collaborating with others for work, post task link in Slack and tag/mention (@ + person's name) relevant parties with a clear description of the task.
The number one focus for your company should be on setting up and maintaining excellent communication among stakeholders. When communication breaks down, it creates pain points for your business, thereby increasing your workload, reducing profit, and delaying productivity.
In order to keep the conversation lines open, ensure you have an effective communication channel to ensure staff interaction and communication on projects.
Set up proper communication channels and protocols between departments, project managers via effective tools like Slack and Zoom.
3. Invest In Good Security Measures
Now that you are working remotely, security is very important. This is why tools like WhatsApp don't do quite enough to allow you to control or own your company information.
Additionally, your control of the external channels is limited. When you no longer wish an employee or former employee to have access on WhatsApp, for example, you can delete the chat history with that employee only on one end of the conversation, but they can still have access to the other side of it.
A platform like Slack is more ideal, because your company information is private and controlled. If you delete an employee from Slack, you remove their access to your company content. So it is very important to use these tools effectively, and email is not the proper tool to use for this situation.
Beware of phishing, as there are now many opportunities for these people to take advantage of individuals and businesses now online. So, make sure to set your company up for successful, safe sharing and effective communicating.
Highlights
Invest in or optimize current communication tools in order to reduce staff confusion.

Setting up good communication standards through proper documentation keeps all stakeholders informed and up to date, helping to eliminate pain points.

Do your research on the programs and software that address your company needs, considering factors like security. Need help determining the right technologies for your business model? Our team can walk you through the process.
Want more information on these tools and strategies? Check out our 20-page white paper on helping your B2B business survive the pandemic. You can download it here.
II. Productivity
Everyone understands why productivity is important. A productive employee can be 8 times more productive than an unproductive one, so you will lose a lot of juice in terms of productivity when transitioning to remote work. If you are acclimated to monitoring staff in certain manners, this will require an adjustment. Focus on your end goals and maintain as many of your core company principles in adapted ways.
The following tools will help you eliminate or at least reduce the amount of productivity lost.
1. Utilize the proper tools.
Task trackers
Task trackers allow for easier task management in the organization of the planning, testing, tracking, and reporting stages for projects. Task management can help with goal achievement, or groups of individuals can collaborate and share information and files in order to accomplish collective goals.
Asana is a software-as-a-service (SaaS) designed to increase team collaboration and improve work management by helping teams manage projects and tasks in one tool. Teams can create projects, assign work to specific teammates, set deadlines, and communicate about tasks directly in Asana.
Trello boards can be used to keep track of ideas between groups. Trello boards are a terrific tool for project management and task management to organize projects of any size. The visual Kanban boards are flexible, shareable, detailed, as users can add comments, upload file attachments, create checklists, add labels and due dates, and more.
Jira can be used to monitor progress for teams or marketing departments. It is a tool developed by Atlassian that is used for bug tracking, issue tracking, and project management. Jira works well for both smaller and larger teams in assigning tasks, communicating progress, logging work progress. When starting a new business, Jira can be tremendously useful, since it remains scalable for business growth.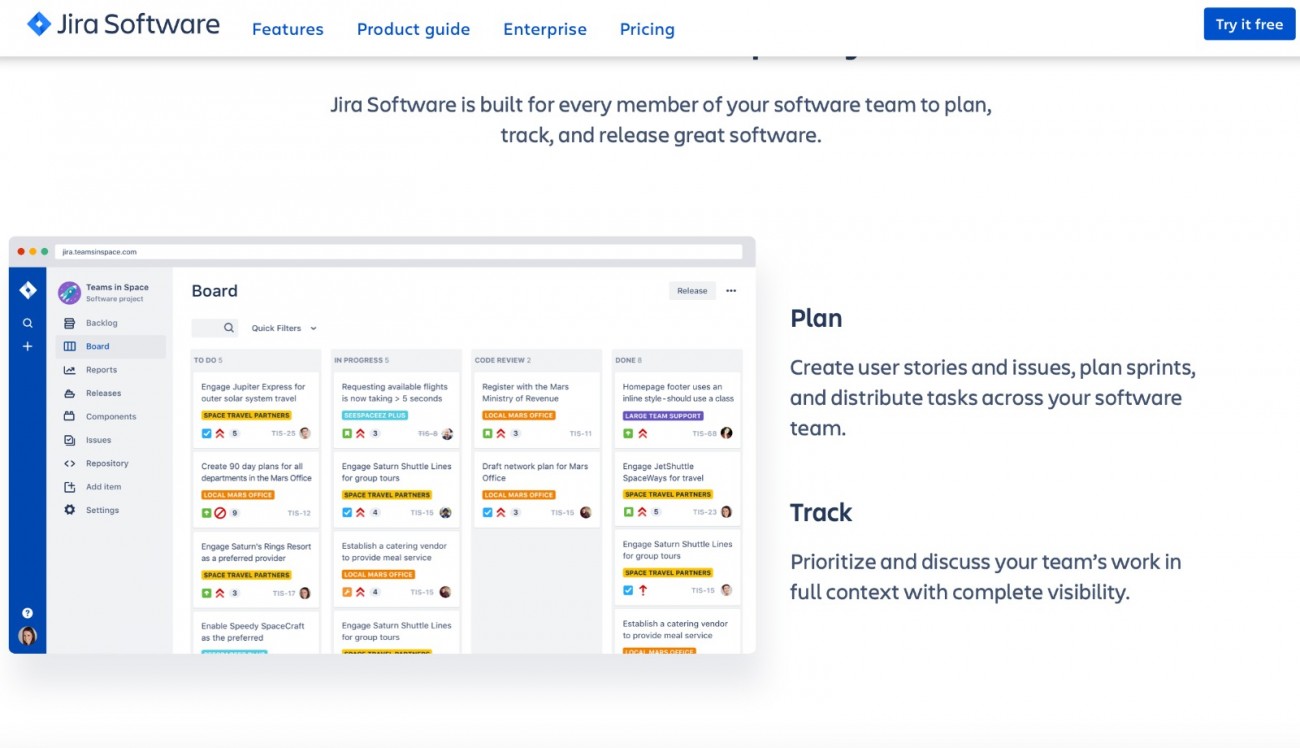 Jira allows for task tracking and project management with customizable functionalities.
Monday is a work Operating System (OS) and visual team management tool where teams can easily run projects and shape workflows, adjust to shifting needs, create transparency, and collaborate. Monday gives you the opportunity to quickly add members, assign tasks, customize workflow, and track the progress of their work all the way to completion. It promotes transparency for teams to be able to stay on top of their work without any unexpected surprises.
Other Useful Tools
A CMS Website
You might need a good CMS to help you store information. If you are used to having an office with a ton of paperwork/red tape, you can create a CMS that makes it easy to find options when searching. Some popular options for CMS platforms are:
This online, open source website creation tool is an easy-to-use, powerful blogging and website content management system.
A free and open source content management system designed to assist users in building websites and other online applications.
Not technically a CMS, this template website builder allows you to easily build your site with a drag-and-drop editor.
Free, scalable, open source software used to create and manage content for websites with a strong development framework.
Other Helpful Tools
You may find the following productivity tools to be very useful, as they can be easily integrated with the platforms mentioned above. By integrating applications into your CMS platform, you can help simplify your work process, hosting multiple data points, files, and graphics within the same location.
Airtable can store information in an easy-to-use spreadsheet that's aesthetically appealing but also powerful enough to act as a database that businesses can use for customer-relationship management (CRM), task management, project planning, and tracking inventory. This is somewhat of an enhanced version of a Microsoft Excel Spreadsheet.
Lucid Chart is a great tool for creating and sharing diagrams. This web-based proprietary platform allows users to collaborate on drawing, revising, and sharing charts and diagrams.
Google Drive allows users to store and share files on their servers, synchronizing these files across multiple devices. Files created and edited through the Google Suite are saved in Google Drive. These include Google Docs, Sheets, Forms, Slides, Meet, and Hangouts; their applications are designed to be integrated with Google Calendar and Gmail for smoother, more streamlined functionality and business operations at a small or large scale. Learn more about how to organize a shared drive here.
Microsoft 365 is a suite of cloud-based productivity and collaboration applications that integrates all Microsoft's existing online applications, designed to help grow your business. Applications like Word, Excel, PowerPoint, Outlook, Publisher, and Skype for Business and Microsoft Teams, are included in a cloud service, with the latest features and security updates. Use cloud-powered email to reach customers and coworkers wherever work takes you, perfect for transitioning to a remote work environment. 
G Suite is a collection of business productivity tools for collaboration with convenient integrated applications including email, word processing, spreadsheets, shared calendars, cloud storage, and more, all powered by Google. The primary tools include the popular apps Gmail, Drive, Docs, Sheets, Slides, Forms, Calendar, Google+, Sites, Hangouts, and Keep. With the convenience of all of your business applications in one location, G Suite can help streamline your productivity.
Dropbox Business is a secure collaboration cloud storage service and smart workspace used for file sharing and team collaboration. This file sharing package is targeted specifically at companies and enterprises. As a client, you can use the app to securely share your files, sync them easily, and collaborate with your colleagues for enhanced productivity.
Be sure to reach out to our team at CPL if you need more ideas or help transitioning. 
2. Organize shared drives and set proper policies.
Having files organized is more critical now than ever.
Companies waste precious time daily in an effort to locate information and files. Think about every time you went looking for a file and had to contact three people. Now multiply that company-wide, and imagine how much time is wasted overall. Learn more about how to effectively organize files in your shared drive.
Set good policy naming conventions and a document that outlines the policies explicitly, so employees and departments can refer back to it. This is incredibly important.
3. Set regular meetings that are effective and productive.
Consider the human element. It will take time to acclimate people to work quickly as they transition to this form of remote operations. Some will adjust faster than others, but ensure that all feel supported with clear structure. Establish effective meeting times for departments, projects, and tasks. 
Limit your amount of daily or weekly calls. Don't get lost in small details during companywide or general meetings. Break them down into smaller calls by related departments or teams.
Stand-ups – Here at CPL, we perform daily stand-up meetings to set goals at the beginning of the day, outline work flows, and ensure everyone understands company priorities. We then hold a follow-up meeting at the end of the day to check progress and monitor tasks. Some of our general rules for these stand-ups include:
Each individual should speak on average for about 1 minute (no more than 1.5 mins).

Quickly debrief on tasks you accomplished yesterday and those which will be the focus today, and mention (not discuss) any critical blockers for you to complete your goals for the day.

If you need a meeting with someone in order to finish your work for the day or solve critical blockers, this is the time to request it, however, the discussion itself should not take place during the stand-up.

Do not ask open-ended questions or request answers to solutions during the stand-up. Save those for individual follow-up meetings with your department or team members.
4. Establish good standards and processes documents for multi-team or multi-person tasks.
Creating checklists can ease the burden on collaboration. Employees can monitor a shared document or file with easy-to-follow checklists and determine progress and workflows without wasting extra time in contacting each individual team member affected.
Perhaps your team is used to sitting next to or across from one another. They may feel lost about how to execute tasks accordingly. Having clear process documents stored gives them access to vital team information, also allowing them to check statuses and mark off progress without delaying other team members.
 
Set up clear guidelines with clear, measurable goals.
These documents allow employees to understand big-picture aspects and goals of the company and of each project. Defining goals with all team members on a global scale before, during, and throughout the project allows business owners to remind all stakeholders of priorities.
Before March 2020, this information would have been presented at in-house staff meetings, company workshops, seminars, and retreats. Now, the shift to digital requires documentation that is accessible to all stakeholders, aligning company goals and expectations in an easy-to-follow, strategic rubric for calculating measured success.
Clarify in quantifiable terms how to achieve measurable objectives and accomplish goals with concrete details and examples.
Set tasks with clear responsibilities, and attach or tag the related team members and departments to maintain structure and accountability for task management.
What does that mean?
Create and share documents referencing internal company standards and processes.
Clarify in quantifiable terms how to achieve measurable objectives and accomplish goals with concrete details and examples.
Set tasks with clear responsibilities, and attach or tag the related team members and departments to maintain structure and accountability for task management.
Highlights
Establish proper tools for monitoring productivity, including task trackers, a good CMS website, and any other tools that can help streamline your company workflow.

Set up company documents for organizing your file sharing systems.

Promote and stick to regular, predictable meeting times with a clear structure and process.

Organize teams with clear company documentation of processes and standards, so all stakeholders feel supported, informed, and confident in prioritizing.
III. Sales
Anyone in sales and marketing must consider and plan for the inevitable steps taking place as a result of COVID-19. The way people shop is ultimately going to change indefinitely.
Priorities are going to shift, at least in the short-term, but they are more than likely to span far into the midterm, with long-term effects yet unknown.
Preparing for this in order to ease the transition should be a primary concern and focus for businesses everywhere. Especially for business collaborations in remote or international markets, this means transitioning to digital faster.
Improving your digital channels for sales will become more critical in ensuring that your business succeeds. You can learn how to Build An E-Commerce Site That Actually Drives Sales.
How you sell is going to change. Without the ability to meet people in person, your sales teams, strategies, channels will have to change.
Business meetings will change. Events will not be held for some time. The shift will be to virtual marketplaces with marketing strategy shifts to guide them.
How do you continue to drive B2B and B2C sales and keep customers engaged in a digital marketplace?
In addition to supercharging your B2B platform, your company will have to evolve.
Planning the sales journey is essential to determining next steps for your company's marketing strategy in this critical time. Considering the big picture will be vital to the long-term survival and success of your business.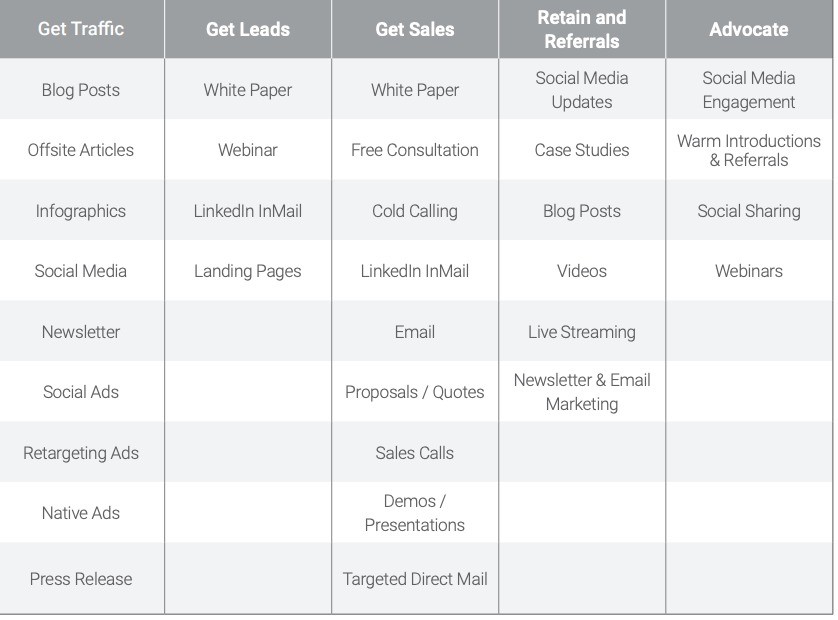 The table above outlines a typical suggested B2B buyer's journey for B2B businesses. When considering overall marketing strategy, keeping the buyer's journey in mind will help your team better understand how to push traffic, generate sales, and drive conversions.
Pitch your product, service, or offering in a new way.
With the emerging need for change, some products will succeed naturally as the market and unique situation of this pandemic dictates.
Other B2B and B2C marketing strategies can be found here.
Will your product, offering, or service be more relevant?
Maybe. But the truth is that people are reacting differently, and you need to adjust your pitch to consider that. Adjust your offering to market to what the need becomes. Adapt. Grow your sales strategies in new directions.
Create supporting marketing materials that consider your new approach. Your pitch and your tone have to change. What you are saying has to change. Consider the human element. And the logistics affected by this crisis.
1. Quickly locate effective sales tools. 
Management Tools
CRM
Customer Relationship Management (CRM) systems use data to better understand and target your customers, tracking interactions with current customers and visitors which allows for a better understanding and analysis of actions and behaviors to anticipate and meet customer needs. Track sales, phone calls, emails, web traffic, customer information, and even pain points in your landing page conversion issues with CRMs. This technology allows companies to manage relationships and interactions with customers and potential customers to improve business relationships, stay connected to customers, streamline processes, and improve profit.
Proper reporting will be vital in tracking your team remotely. This sort of tracking system will help you stay on top of your team's progress in identifying specific areas of growth, for example, by monitoring the effects of an SMS bump on conversions and purchases.
If your company already has a CRM in place but you don't use it well, this will be worth investing in to set good standards for inputting information.
Useful Tools:
Hubspot is an inbound marketing and sales software for attracting visitors, converting leads, and supporting customers features. 
Salesforce is a cloud computing, integrated CRM SaaS platform for all your marketing, sales, commerce, and service monitoring needs.
PipeDrive is a web-based sales CRM and pipeline management solution to plan sales, make decisions, and monitor deals to drive conversions.
Agile is a CRM software for storing,  organizing, and presenting customer and prospect data in an updated collaborative database. 
Customer Service System (CSS)
A CSS is a configuration of technology and organizational networks designed to deliver services that satisfy the needs, wants, or aspirations of customers.This tool helps businesses in the management, organization, and tracking of customer queries and concerns. It also stores all information relevant to customer service, which can be used to come up with valuable business insights.
FreshDesk is a customer support software to manage customer care and support with features for tracking and resolving complaints and queries.
ZenDesk is a cloud-based customer service app for customer retention and lead sourcing with data analysis capabilities, and add-ons. 
Live Chat Tools
Live chat support tools allow users to locate answers quickly, providing a much more positive experience, ensuring that every issue is handled efficiently with quick, convenient support. It also decreases your customer service costs significantly, while increasing sales and generating conversions.
Drift is a conversational marketing platform to help your team generate more qualified leads through chatbots and conversation.
Intercom is a customer communication platform of products including a live chat system for support, sales, and marketing teams.
ZenDesk Chat is a live chat and communication widget with customer assistance via chat, phone call, email, social media, and more.
Hubspot Live Chat allows you to connect with customers with live chat, team email, Facebook Messenger integration, and an easy-to-use chatbot for free.
Outbound Sales Tools
Using outbound sales tools like LinkedIn Sales Navigator or Seamless.ai can help you locate, explore, and build better relationships with customers. Searching for your target audience, engaging contacts, and organizing information become a breeze with the advanced features available in these technologies.
LinkedIn Sales Navigator is an advanced sales tool with easy search and filter features for engaging contacts via LinkedIn.
Seamless.ai is a marketing intelligence platform for sourcing and developing sales leads using data science and AI, paired with your CRM. 
Pandadoc is a web-based document management solution that allows users to create, deliver, and share documents online. They can even place their legally binding signatures for faster paperless transactions and processes.

For your company, Pandadoc can be used to get more sales quotes since your sales team is not physically together. This allows for planning together and will help standardize work across your distributed sales team. This will also reduce mistakes in proposals.
2. Use your digital channels to get more leads.
Use tools that help you sell.
As the digital connection with your customers is more important now than ever, identifying and using the right tools for those interactions will be vital. Understand how to grow your business across different channels.
B2B E-Commerce Website
Many small businesses have been reluctant to embrace using a robust B2B e-commerce website as their primary sales tool. Perhaps in the past, most of your leads and sales were generated from trade shows, client lunches, and business meetings. However, with in-person events canceled for the foreseeable future, now is the time to go digital. Statistics increasingly show that more and more B2B buyers are shopping online. There has never been a better time for a B2B shift to e-commerce. 
Setting up a B2B e-commerce website can be easy with a CMS, or content management system. This is a computer software or an application with a database that manages all content, and has practical uses when developing a website, to update content and/or your website structure.
TOOLS:
Open source technology platform with powerful marketing, SEO, and catalog-management tools, along with total control of their online store. 
Cloud-based, SaaS shopping cart solution, with access to an admin panel to store data, add products, and process orders. Learn more.
Build eCommerce websites and apps with content authoring, reliable performance, excellent security, and module flexibility. Learn more. 
Paid, hosted e-commerce SaaS solution to help  business owners set up an online store and sell their products online. 
Review and Perform Website Analyses 
Especially with a distributed workforce, it is ever more important to back up your strategy with data and use it to adjust your marketing tactics. Utilize programs that provide detailed website analyses to drive marketing decisions. It's always about these magic numbers: improving your conversion rate, average order amount, and traffic. Now is the time to dive in and realize where your biggest challenges are so that you can identify where your opportunities lie.
Landing Pages
There is probably nothing more important for B2B digital campaigns than crafting memorable, effective landing pages that drive inbound traffic. Research shows that landing pages are used by 68% of B2B businesses to acquire leads. 
Landing pages are web pages designed to stand alone in the marketing funnel, created with one specific purpose in mind — to secure B2B leads for your product or service. Once your customers follow your marketing ads, social media, emails, and newsletters back to your site, those landing pages will be the vital part of converting your traffic. The main purpose of B2B landing pages is not to generate sales, but rather to gather contact information to get clients to speak to you for 15-30 minutes. 
Failing to design engaging landing pages will result in a higher bounce rate and distracted customers navigating away from your site. Learn more ways to create landing pages that convert. 
Landing Page Tips:
Speed is critical. If your page does not load quickly, you lose valuable leads.
Design your call-to-action well. The location of the CTA and colors on the button should contrast with the landing page itself, making it obvious.
Content is king. Research and provide landing page content based on the information your target audience is seeking. 
Keep it streamlined. Do not divert viewer attention to links, icons, or diversions from your site.
Upsells 
Upsells are a perfect way to increase the average order value in B2B e-commerce websites. With upselling increasing revenue by 10-30% on average, it is clear why this sales tactic is used by so many e-commerce sites. Upsells offer users the chance to purchase upgrades or upsells, including the more expensive or luxury version of their current purchase selection to increase the average order value, maximize the value of the purchase, and get the most money from the sale. It is far more expensive — 5-25 times more expensive, in fact — than to retain an existing one. You are more likely to upsell to a person already completing a purchase, so this is a great tool. 
Cross-Sells 
Both upsells and cross-sells aim to increase average order value, but unlike upselling, cross-selling is the sales technique of offering the option to buy related, complementary, or associated items along with a purchase. It is an attempt to maximize the value of the purchase, hoping the likelihood of related purchases will increase with the original product. Your company is 60-70% more likely to sell to an existing user, one already in the process of making a purchase, than a new prospect. It can help to consider target audience when choosing which products to market for cross-sells.
Email Marketing
Proper Segmentation of Customer Groups
A very effective tool for email marketing is creating segmented customer groups. Collected data combined with accurate segmentation allows email marketers to send customers truly relevant messages based on unique filtered preferences or actions—and that means better results for everyone involved. On average, marketers see a 760% increase in revenue from customized, segmented email campaigns. Tailoring email content to customer behavior significantly increases the chances of conversion. Creating A Welcome Email Series Flow can be easier than you think. There are many ways to supercharge your email marketing.
Lots of Drip Campaigns
Drip campaigns — a series of emails sent out on a schedule — are the perfect complement to a great B2B e-commerce platform, as it drives more traffic and generates higher conversions. Also known as automated email campaigns, drip campaign emails are drafted in advance, and then using an automated system, they are sent them out on a preset schedule. Click here to learn more about creating an automated email flow sequence.
Personalized Sales Email Sequences
While drip campaigns work well for general marketing, personalized sales emails have the ideal tone and content for generating B2B leads. The conversational nature of these email sequences goes hand in hand with the way B2B business is typically done. Outside of your typical trade shows, client lunches, and business meetings, these emails are the closest equivalent to a digital handshake. Adding a personal touch with sales email sequences is the perfect way to engage warm and cold leads, as well as connect with existing clients. 
Newsletters
Newsletters continue to keep your customers and prospects up to date with developments in your company. With carefully curated content, you can keep your audience informed on topics such as new products, special promotional offers, membership rewards programs, and updates, for example, like keeping stakeholders informed of your company's efforts to handle business going forward after COVID-19. Have your operations changed? Find out more about how Creating Great Email Newsletters can set your company apart from the rest.
Campaigns
Campaigns are the perfect way to reach your customers, clients, and leads. By adding an incentive, your team can follow up with customers, explain your services, and promote your brand even further. This makes marketing campaigns an incredibly important piece of any B2B sales strategy. Check out some incredibly effective B2B marketing campaigns.
Invest in SMS / Push Notifications
You already communicate with clients over the phone because of the way you do business. Implementing text marketing campaigns, like using WhatsApp Business, are a valuable tool to supplement your existing client communications. SMS messages generate a 98% open rate, with a 209% higher response rate than phone, email, or Facebook.
SMS / Push Notifications are text marketing automation apps available for Shopify, BigCommerce, and OpenCart. They allow your marketing department to run text marketing campaigns, set up automations and notifications, allowing your company to stay easily in touch with customers, updating them on products, services, promotions, and information about your company.
Blogs
There are quite a few bad, content-absent blogs out there, in terms of B2B topics. When generating blog topics and content, do the research in understanding 1. the information that your readers are searching for online and  2. the added value of your product or service. 
Doing research on longtail keywords and Google trends is a quick way to understand B2B readers. Your marketing team can best determine how to portray the value of your offering, while reinforcing your brand with existing customers. Connecting your unique brand identity to real value for readers will make them advocates for your business and visitors to your site. Your blog could be an in-depth look into your featured services, a tutorial on your benefits, and an exploration into a core of knowledge based on your readers. 
Keep in mind, this may not draw huge amounts of traffic to your site, but the traffic it does draw will be a very expensive gain in SEO value. The only caveat is perhaps investing in native ads — sponsored ads at the bottom of news sites — that link to your blog post. This is ideal if you are looking to drive specific segmented traffic to a specific article, which can then link to your landing page. Blogs are stepping stones in the lead generation funnel and not the endpoint. So, SEO, metadata, and longtail keywords are necessary to generate traffic to the blog post, good content is vital for keeping readers and establishing value, and proper links to your next step in the funnel ensure that they move through accordingly. 
3. Technologies 
Technology like virtual reality and augmented reality may have seemed light years away in the mass market now seems appealing in a post-coronavirus world. With international travel being curtailed for the foreseeable future, technologies like these can empower B2B businesses selling large ticket items, especially when required to visit a physical location. 
For industries involving pre-construction sales or moving building materials like tiles or marble, tools like AR and VR can be a powerful marketing channel for generating leads and sales. Augmented Reality adds digital elements to a live view often using the camera on a smart device. Virtual reality involves a completely immersive experience that suspends the user in the total reality of a simulated environment.
With the cancelation of trade shows, lunches, and in-person meetings, AR and VR can provide the powerful, engaging experience of these offerings in a way never seen before. To learn more about virtual reality, augmented reality, and mixed reality, visit this article.
4. Work on refining your product offering.
Adjust what you are offering:
Pitch your product, service, or offering in a new way, as you must quickly establish a new need for it. This new and changing environment of the market and of people's lives requires adaptation. How will you take your product to the next stage of business? Plan and execute a strategy to help you bridge the gap. 
Still need help? Our team at CPL can walk you through it.
Highlights
Quickly locate and optimize effective sales tools to generate more leads, including the implementation of management software.

Use your digital channels effectively to generate more leads with effective website, email marketing, drip campaigns, and other helpful tools.

Understand and refine the tone and language of the presentation and marketing of your product, service, or offering to reflect the current environment.
IV. Operations
Now that you have your sales strategy covered, how do you keep the machine running that keeps your entire business afloat?
If you are like most companies, most of your back office is already on the cloud, but some of your back office is still running the "old school way."
This is the moment to really invest in that, because whether you do it now, or whether you do it in six months, it is a necessary inevitability. Get ahead.
1. Use the right tools.
Consider the new circumstances surrounding remote work. You will be forced into new ways of running your business. Think about the tools you will use to address the changes in your work force dynamic. The secretaries, customer service team, and marketing team used to sit in a conference room or office together, but what now? What tools do you use to help address these new needs?
ERP
Enterprise resource planning or ERP software is a suite of applications for the management of core business processes, such as sales, accounting, human resources, customer support, CRM, and inventory. It's an integrated system, beyond the capabilities of an individual software designed for specific business processes. Use a good ERP to manage your back office.
Platform for material and warehouse management, human resources, accounting, sales and other enterprise features. 
Online service system for managing processes, tracking inventory and financials, and hosting e-commerce stores.
Customer insight, sales orders/invoices, inventory, and process automation with convenient integrations.
Manage company operations with critical business information and CRM, finance, and manufacturing capabilities. 
Shipping
Warehouse Management Software – If you are used to your team checking inventory in person, you may want to invest money in transitioning to a cloud-based, back-end warehouse management software.
Web-based shipping solution for streamlining the fulfillment process with integrations for synchronizing your business.
Multi-carrier shipping software tool saving companies time and money with automated, optimized shipping for e-commerce.
Cloud-based platform for printing labels, processing orders, managing inventory and creating custom email campaigns.
Calculate shipping rates, let shoppers choose their rates, create shipping labels, and send packages in one platform. 
2. Understand and define new roles and related tasks.
Set up clear, measurable, progress checks with all stakeholders to ensure a streamlined process.
Decide the new roles of each team member. Who will monitor progress? What is the correct remote protocol for chain of command? Set all of these up in company processes and standards documentation to ensure transparency for all stakeholders.
Explore some of the options for task managers mentioned in the sections above or use a program like Jira to monitor your workflow progress, measure employee productivity, generate company-wide reports with detailed information and work logs. This allows everyone involved to have equal access to valuable content, guidelines, standards, processes, and any information necessary for transitioning your operations to a remote work environment.
3. Other tools and integrations can help streamline operations.
There are many available tools that can easily and conveniently improve your business operations. Some of these include automation and integration tools like Zapier and Tray.io which will simplify tasks and help you scale growth and productivity.
Online automation tool connecting apps, such as Gmail, Slack, and Mailchimp, to automate tasks easily. 
Flexible platform for automating complex processes, connecting the cloud with API integration for productivity.
4. Internal reports on all your tools.
When managing a distributed team, it is even more vital to stay on top of your business data. Without the ability to supervise operations in person, data quickly becomes the solution to your company's pain points. Analytics can show where to implement changes to your sales and operations, driving better decision-making and saving you time and money, After implementing and optimizing the tools to streamline your sales and business operations, generate thorough, specific analytics reports with useful tools like Google Data Studio or Tableau.
Customizable, and shareable dashboard and reporting tool that transforms your data into appealing and informative reports. 
Secure, flexible end-to-end analytics platform scaled for individual or enterprise, turning data into insights that drive action. 
Highlights
Choose the right tools to set up your business operations model.

Work on defining new staff roles alongside your team, to better establish transparency and a clear set of shared company guiding principles for all to reference.

Technologies like Augmented Reality and Virtual Reality can take your small business to the next level.

Ultimately, internal reporting should drive your marketing strategy and shifts.
Look Forward
It is important that companies prepare for the worst but focus their digital channels not only to minimize losses but to also invest in the future.
There is no one good way to respond to a crisis, but you are handling it the right way if you do so while investing in the future. From a long-term business perspective, you are investing in a double win: a good business that invests in situations like this is statistically further ahead than their competitors 6 months after the crisis.
Cutting your spending will not necessarily ensure your company's survival. Harvard Business Review acknowledges that... 
Firms that cut costs faster and deeper than rivals don't necessarily flourish. They have the lowest probability—21%—of pulling ahead of the competition when times get better…
Although it seems counterproductive to spend money during a crisis, you do not need to stop all spending, but rather make targeted investments in the research and development process. This way you can make specific changes for the current moment that will help your business succeed and invest in the future. Don't know where to focus your energies? Let us help.
Need Help Navigating? Let Us Guide You.
At Creative Propulsion Labs, our process propels your business to new heights through a blend of bold thinking and practical application. We'll analyze your business needs to map out a custom strategy that leverages the latest technologies with the best market research for your continued success in this difficult time of transitions.
Let our team of industry specialists help you navigate these uncharted waters and prepare your business for a smoother transition.
Call or email us anytime for a consultation.
We just published a 20-page white paper on helping your B2B business survive the coronavirus pandemic. You can download it here.