KEY TAKEAWAYS
Setting up your sales funnel will give you a big picture view of your marketing strategy.
Segmented email sequences give potential customers a warm welcome, establishing a relationship, and building trust while highlighting your best content and turning leads into conversions.
Automated email marketing sends a sequence of emails to a specific segment of people on your mailing list. First define the clear and specific purpose of your email sequence to ensure a much smoother journey for your reader and a more successful campaign for you.
Once you have identified your desired email sequence, it is time to curate and segment your mailing list to send more targeted, relevant autoresponders to the audiences that are most likely to engage with that content.
Begin creating the road map to that goal, with each email being a valuable and enticing stop on the buyer journey, acknowledging and marketing to pain points and solutions for their challenges.
Determine the ideal frequency, schedule, and topics of your emails.
Lead with outcome-driven solutions rather than spotlighting products. Compelling subject lines and content should be tailored to your segmented audience. For B2B content, use more of a personalized tone, while B2C marketing emails tend to be more general and sales-oriented.
Select and optimize the right technology to better draft email sequences. Tools like Hubspot can help increase overall productivity.
Once you have a good number of leads in your funnel, and your email sequences have been running for a while, you'll want to analyze your results in order to adapt and optimize your strategy. Then, review, revise, and refresh.
Whether creating an email marketing campaign for your e-commerce B2C business or more direct B2B outreach emails, a personalized and warm greeting is always important.
In fact, many retailers, businesses, and restaurants have already become wise to the powerful effects that simple, yet thoughtful greetings can have on a potential customer, breaking the ice to initiate a conversation, building a rapport, and establishing a relationship to set the customer at ease.
In today's digital age, and especially in a post-coronavirus environment, when most businesses and industries have been forced to adopt a more digital relationship with customers and/or clients, it may be easy to believe that the days of that familiar and warm greeting are behind us. But that's simply not the case. 
See our Strategies for Running Your Small B2B Business During Coronavirus. 
What if I told you that you could still give potential customers a warm welcome that establishes a relationship and builds trust while highlighting your best content, turning leads into conversions, and seeing an average of 760% increase in revenue, all in one set-it-and-forget-it formula? Cue the segmented email sequence.
Marketers see an average of 760% increase in revenue from customized, segmented email campaigns.
Automated email marketing lets you set up and send out one or multiple email sequences catered to specific audiences and behaviors, nurturing your leads, and turning them into customers. 
In this post, we'll show you not just the importance of segmented email sequences, but also guide you through the steps of creating one for your business, starting with the most basic questions: "What exactly is an email sequence?" and "Do I really need one?"
What Is A Segmented Email Sequence?
With automated email marketing, you can automatically send a sequence of emails to a specific segment of people on your mailing list.
Not to be confused with broadcast emails — which are delivered to your entire mailing list at once, for example, to announce a promotion or deliver a holiday message — email sequences are a series of emails that are automatically sent to a curated segment of people on your mailing list. 
These series of emails can be time-based triggers (more on that in a moment) or triggered by a customer's interaction with your business or website, such as joining your mailing list, downloading content, making a purchase, or even more passive interactions including browsing behavior and shopping cart abandonment. 
Meanwhile, time-based, or autoresponder, email sequences are sent at predetermined intervals like immediately following an opt-in, 30 days after a purchase, or celebration of a milestone such as customer birthday or anniversary. 
Whichever option you select – or whether you choose to incorporate both – these automated sequences will only require an initial set up. Then, they simply run themselves.
For B2C businesses, general email-marketing campaigns tend to be directed at a wider target audience, attempting to take advantage of the impulsive nature of consumers. For example, a B2C sales funnel may simply involve a viewer opening an email, clicking a call-to-action in that email, being taken to a landing page, and making a purchase. These can be more personalized to your customers once you have more data.
Segmenting your email content (more on that in Step 2) can better tailor your email sequences to B2C customers, breaking down their behavior in more personalized emails.
In the segmented B2C example below, Sephora has customized the content to target customers who have not made a purchase for some time, by using their previous purchases (and a coupon code) to deliver more personalized content.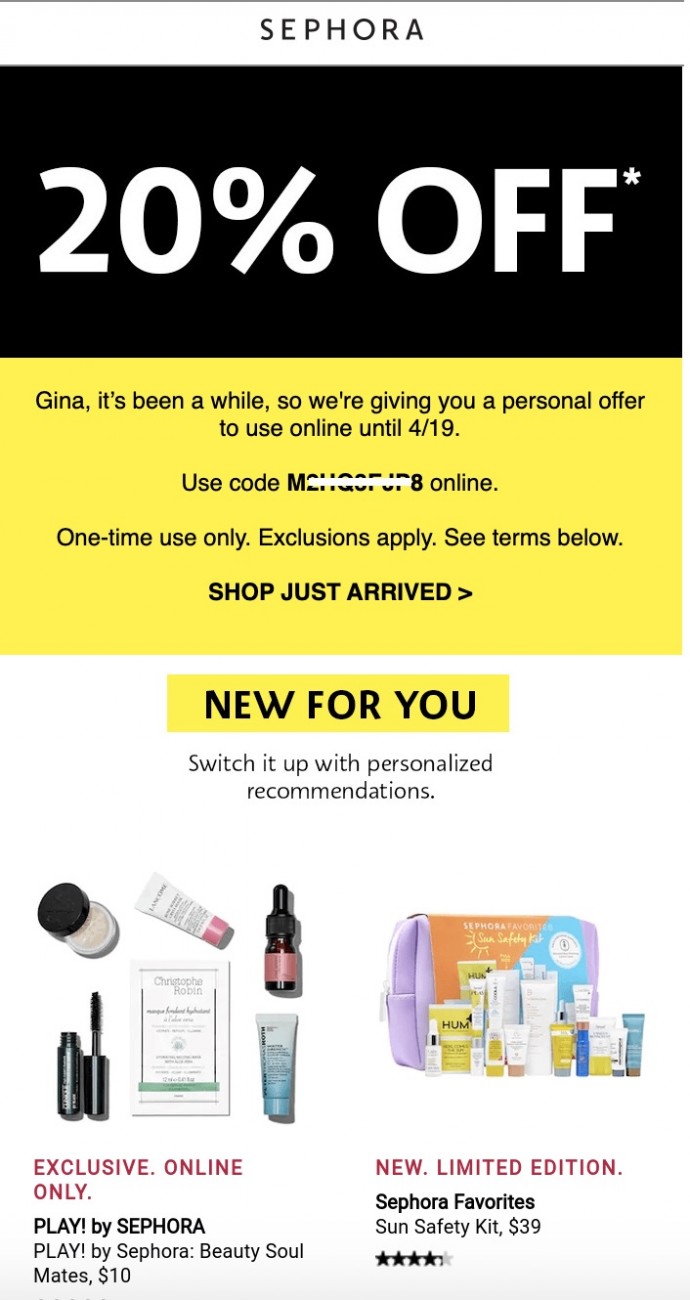 While B2C emails might have a playful tone, they tend to be more generalized on consumer-spending behaviors, while B2B emails need to be a little more targeted to business owners.
For B2B businesses, however, it is a little different. As a business owner talking to other business owners, your language needs to be personal in helping them find solutions to industry challenges. The language is also a little more specific to B2B and each particular industry.
As you can see in the B2B samples below from Neil Patel in our own inbox, these emails have a very familiar tone and get right to the point with specific language and resources targeting the challenges faced by businesses. If you want to explore more of his tips on top performing drip campaigns, click this link, or explore more examples here.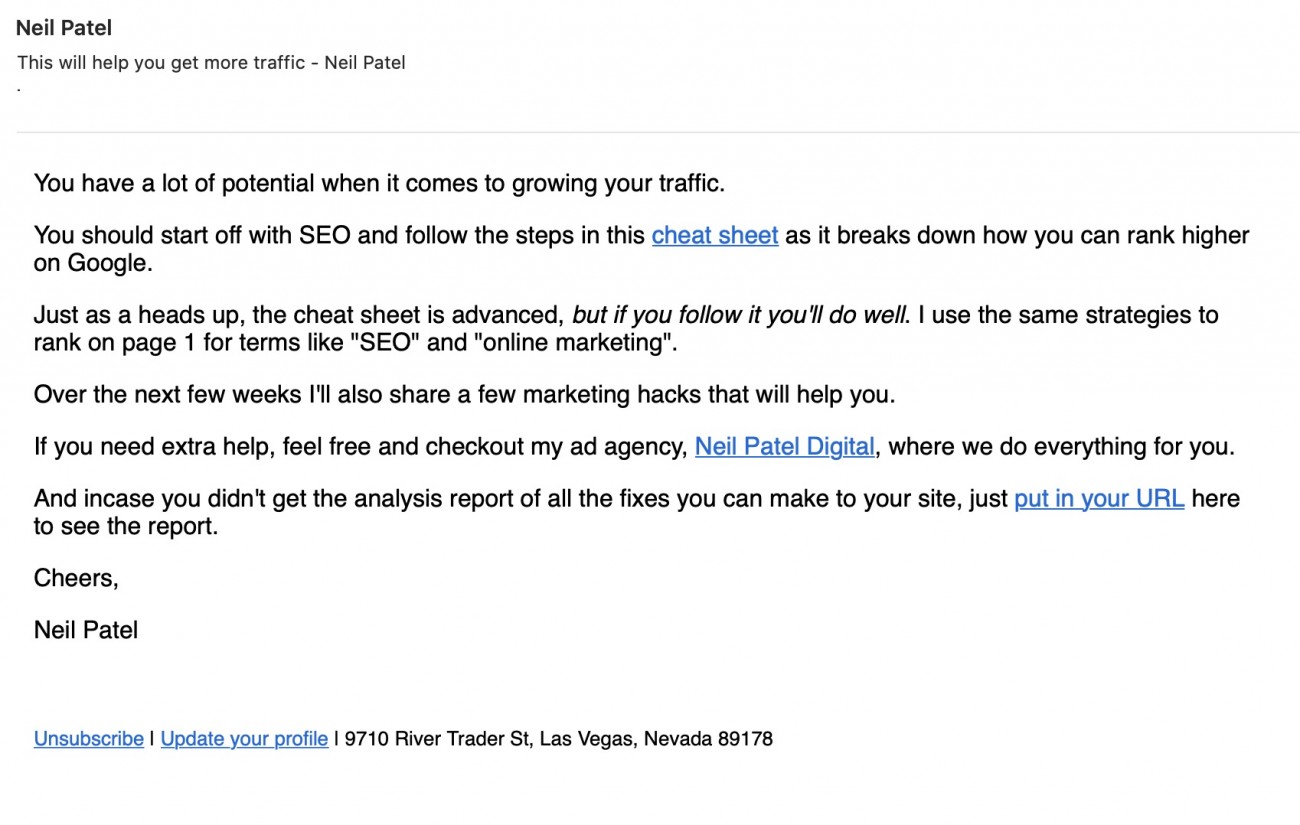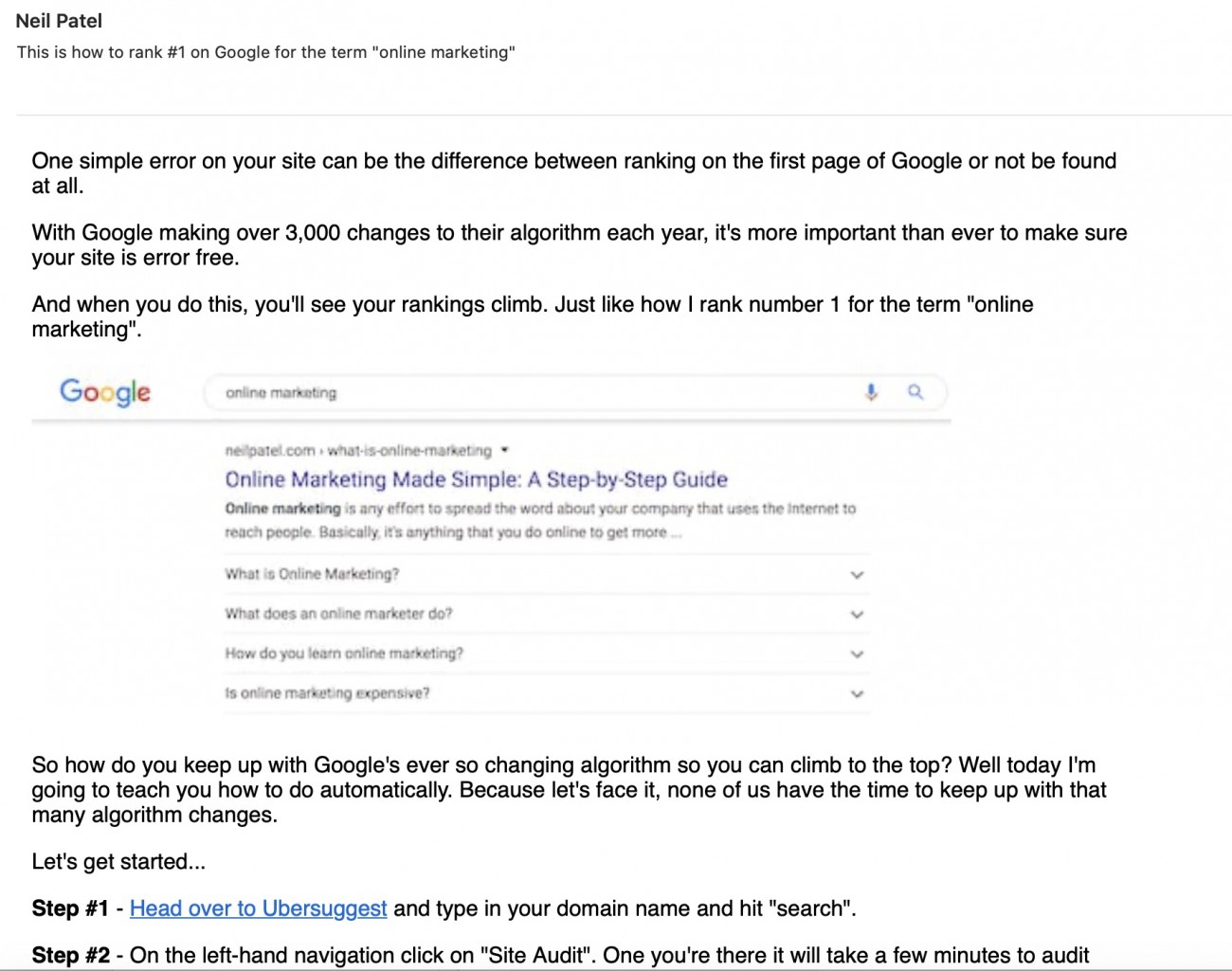 Email is the preferred source of business communication for 72 percent of consumers.
When you think about the cost breakdown of both advertising methods, it makes perfect sense. Once you've purchased your mailing list, your monetary investment is practically done. You are able to reach out to this lead repeatedly via email at no extra cost. Whereas the algorithms on social media will make it so that you'll need to continue to invest in ads or other paid content to reach your target audience. 
Aside from the financial sense, email sequences offer a wide range of benefits to business owners. 
Establish a relationship and build trust with your customers 
Highlight and steer leads to your strongest content
Position yourself as an invaluable resource by providing reliable and informative content
Increase sales by promoting your content at the end of the sequence
Gather more leads and gain more exposure as subscribers forward your content
How Do I Create A Segmented Email Sequence?
As we mentioned above, segmented email sequences are a set-it-and-forget-it formula. Once one has been established, all you have to do is let it run. Sure, you'll want to check your analytics to see what's working, and make adjustments if/where necessary, but for the most part, once it's up and running, your work is relatively done. 
That being said, you will need to put some work into the initial set up to ensure that everything runs smoothly. Below, we'll break down the steps to creating your segmented email sequence.
Step 1 - Define the Purpose of Your Email Sequence 
While you may be tempted to kick off this project by determining the number of emails in your sequence, the truth is your focus should be aimed at a much more high-level goal: determining its purpose. 
Are you seeking sales conversions? Would you like to turn leads into clients? Do you want more subscribers to your blog? 
For the sake of your results, your writers (more on that later), and your clients, it is crucial that you determine your end goal at the very beginning of the process. Clear and specific goals will ensure a much smoother journey for your reader and a more successful campaign for you. To help you strategize, we've highlighted the five most common email sequences below.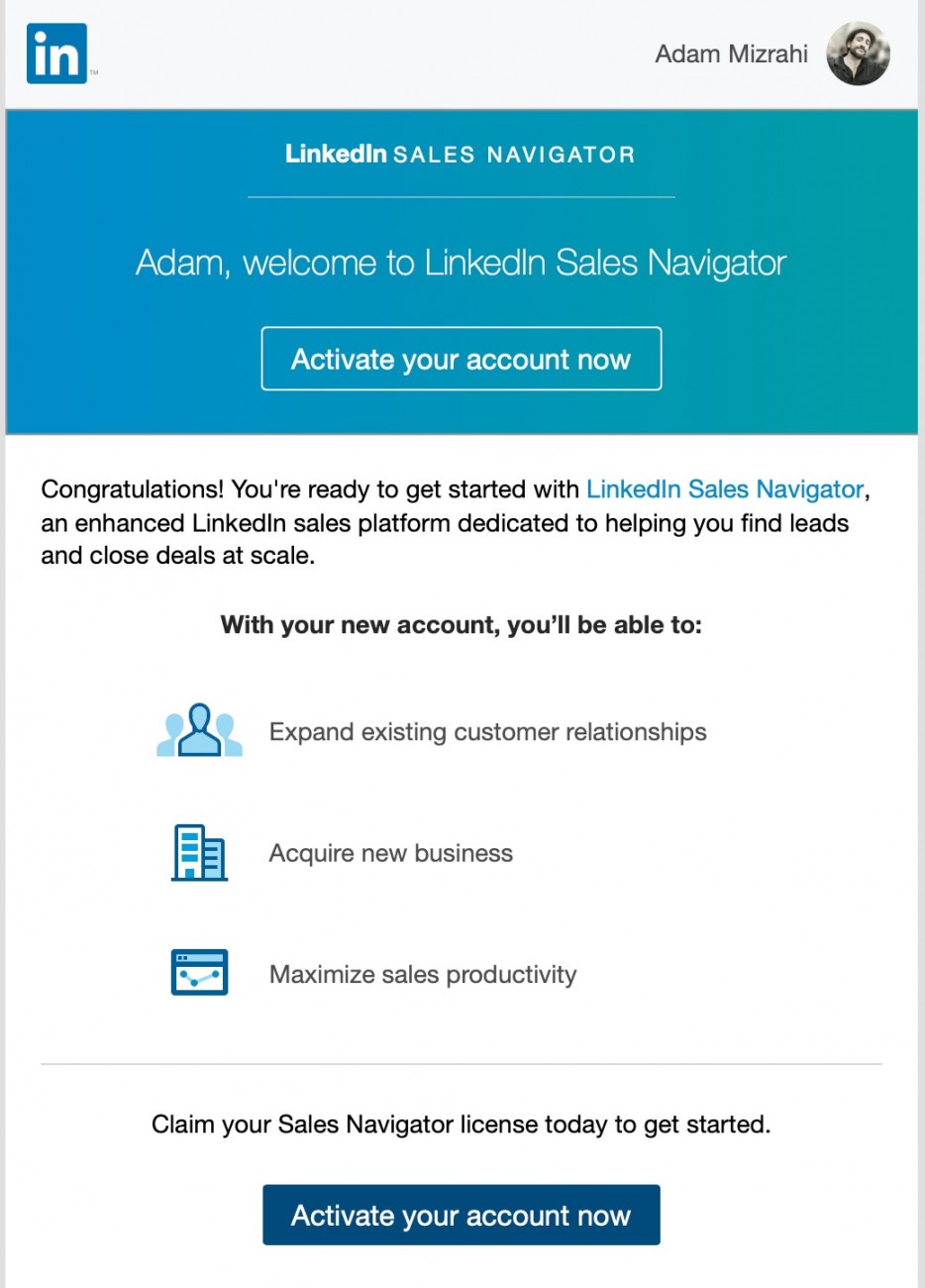 5 Most Common Segmented Email Sequences
1. Welcome Sequence: Circling back to ice breaker from earlier, these sequences tend to have an average open rate of 45%. As in the LinkedIn Sales Navigator example above, a welcome email is very simple and focused on the provided benefits.
2. Onboarding Sequence: Once the relationship has been established, this is your chance to go for the more direct sell by focusing on the value that your business/product brings to the table. And if you happen to have a first-time purchase discount, this would be the time to break it out. 
3. Abandoned Cart Sequence: Whether they got distracted by life, discouraged by their cart total, caught shopping online by their boss, or any number of other reasons, people abandon shopping carts. A lot. So much so, that online retailers can lose as much as $4 trillion to cart abandonment. Luckily, about 63% of that can be recovered with hits sequence. 
As you see in the example below sent from Diamond CBD, abandoned carts can trigger an email specific to each customer's previous actions.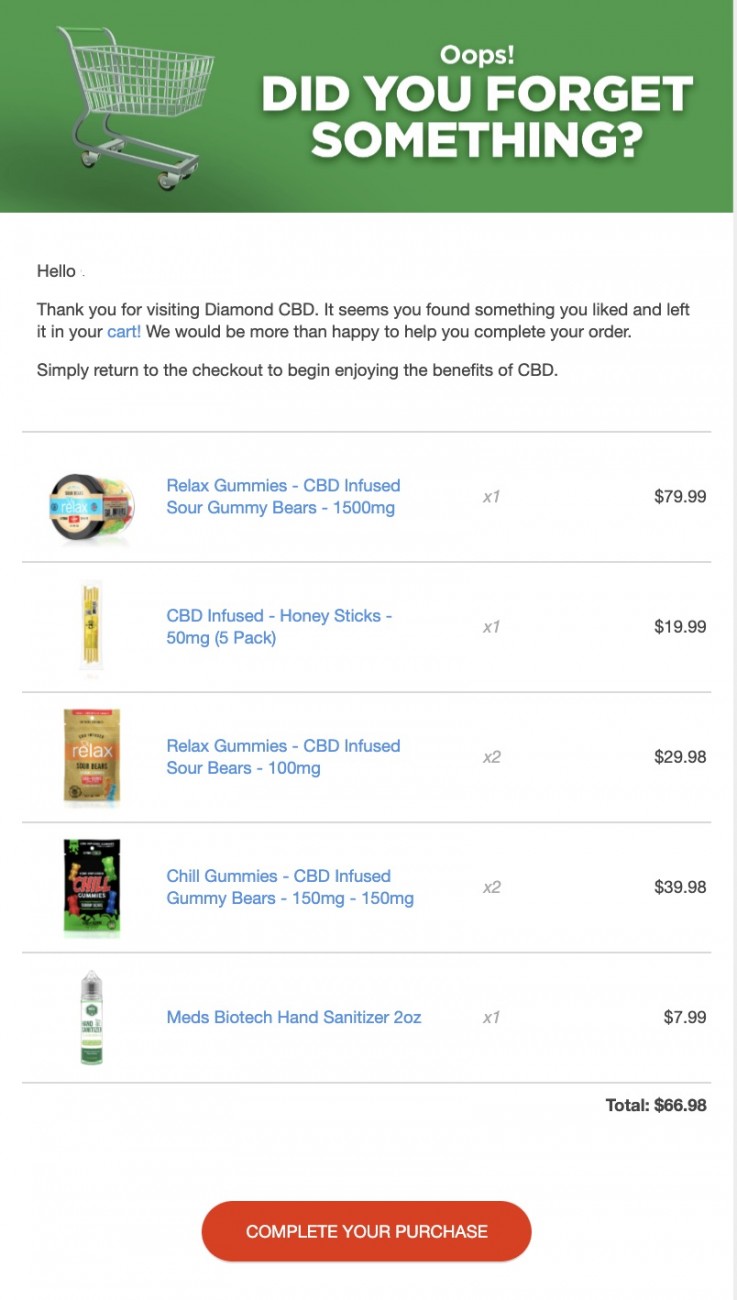 4. Repeat Customer Sequence: While most companies are focusing on generating new leads, often, repeat customers can be neglected. However, existing customers yield a 60-70% higher conversion success compared to the 5-20% success rate of new ones. 
5. Reengagement Sequence: So you neglected the existing customers and now they've stopped interacting with your brand. Well, before cutting your losses, it is important to note that it is cheaper to win back old customers than it is to nurture new ones. In fact, acquiring a new customer can cost five times more than re-engaging an existing one.
Step 2 - Segment Your List
Now that you have identified your desired email sequence, it is time to curate your mailing list, which may sound more daunting than it actually is. We'll break it down for you below.
First, you'll need to understand what exactly is a segmented email list. Email list segmentation, or the process of curating your email lists, allows you to break down your email list into smaller, more strategic groups based on factors such as demographics, stages in sales cycles, buyer personas, and more.
This process allows you to send more targeted, relevant autoresponders to the audiences that are most likely to engage with that content in order to deliver better conversions and overall results.
In today's digitally advanced world, email marketing tools are more intuitive than ever. AI-based tools can analyze user behavior and engagement to piece together valuable data and create targeted messages that will help you deliver the right content to the right audience. These targeted emails can generate 58% of your company's email marketing revenues and increase profits by 18%.
User-friendly interfaces allow you to easily automate emails, but in order for them to be as effective as they are effortless, you'll need to ensure that they're being delivered to the correct audience. 
On average, delivering a campaign to a segmented list results in 14.4% higher open rates, 62.83% higher click-through rates, and 8.54% lower unsubscribe rates. 
Simply put, a segmented list will bring you a much higher ROI than broad email campaigns.
Step 3 - Map Out Your Sequence 
Now that you know your end-goal, you can begin creating the road map to that goal, with each email being a valuable and enticing stop on the buyer journey. 
This is where you see your email sequence start taking shape. During this step, it is imperative that you think first and foremost about your intended audience. What are their challenges? Where are their pain points? What solutions would benefit them the most? How can you offer that to them? 
Notice we said "stop" and not "detour." That is because your emails should never stray from the goal that you've established, acting as breadcrumbs guiding your leads toward conversion. Each email should provide your segmented audience with yet another reward or incentive to continue receiving your messages. 
One crucial point to keep in mind when creating your strategy is that these emails are not multitaskers. For the sake of today's limited attention span, be sure to keep the goal of each individual email clear and concise. 1 email = 1 call to action. 
Step 4 - Determine the Frequency of Your Emails 
There is no hard and fast rule on the frequency of emails, as this can be impacted greatly by their length and content type. Some automated email tools will have default frequency settings that start the campaign with more frequent emails that taper off toward the second part (day 1, day 3, day 7, day 12, etc). If your chosen tools have this feature, it is a good idea to defer to the default to begin with, but you'll likely want to play around with the frequency a bit to see what works best for your specific content and audience. 
78% of consumers have unsubscribed from emails because a brand was sending too many emails. 
Generally speaking, it is best to spread out longer, more content-heavy emails, while shorter emails do not require as much distance. 
One thing to keep in mind, however, is the day of the week in which your emails are sent. If you send out a company newsletter or any form of email communication on a specific day of the week, it is best that you block that day from your sequences to ensure that your audience does not feel spammed by multiple emails in one day. 
Step 5 - Write Your Emails 
For this step, we highly recommend using the services of a professional copywriter, whether they be an in-house employee or a contractor. However, if you choose to take on this role on your own, here are a few tips.
1. As we mentioned above, focus on your reader and their needs, not on your sale.
What are their pain points?
Why did they initially subscribe to you or interact with you?
What solutions can you offer them ?
2. Offer solutions to their problems, rather than products/services for purchase. 
Notice how the email below focuses on the solution it provides, citing statistics for validation.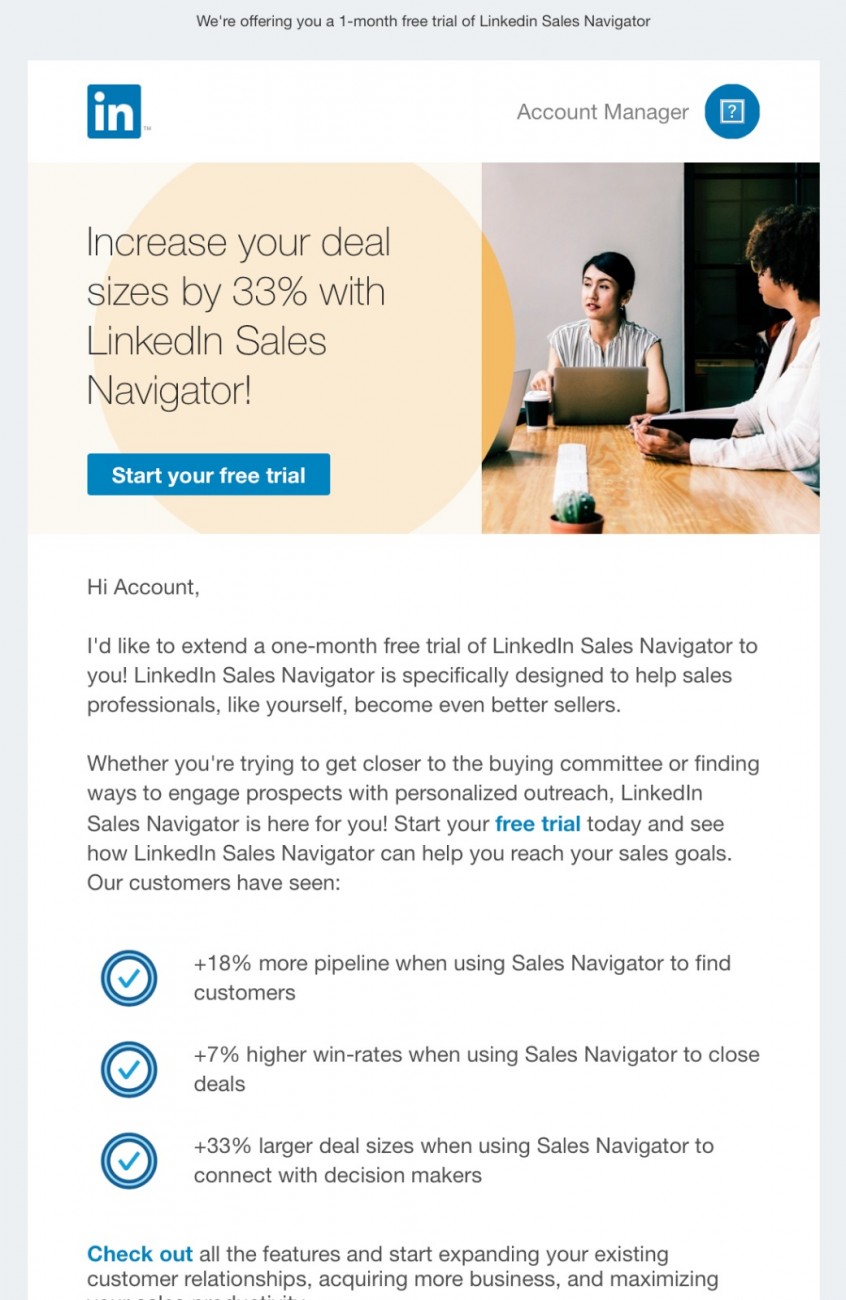 3. Create clear and captivating subject lines that state the value and intention of your email, while incentivizing your audience to read more. 
4. A simple browse of your own inbox will give you an idea of the level of competition for your audience's attention, so be sure that your content offers value and stands apart from the noise. 
The LinkedIn emails below are from our own inbox. Note the direct and streamlined approach, focusing on the positive outcomes resulting from completing the included call-to-action.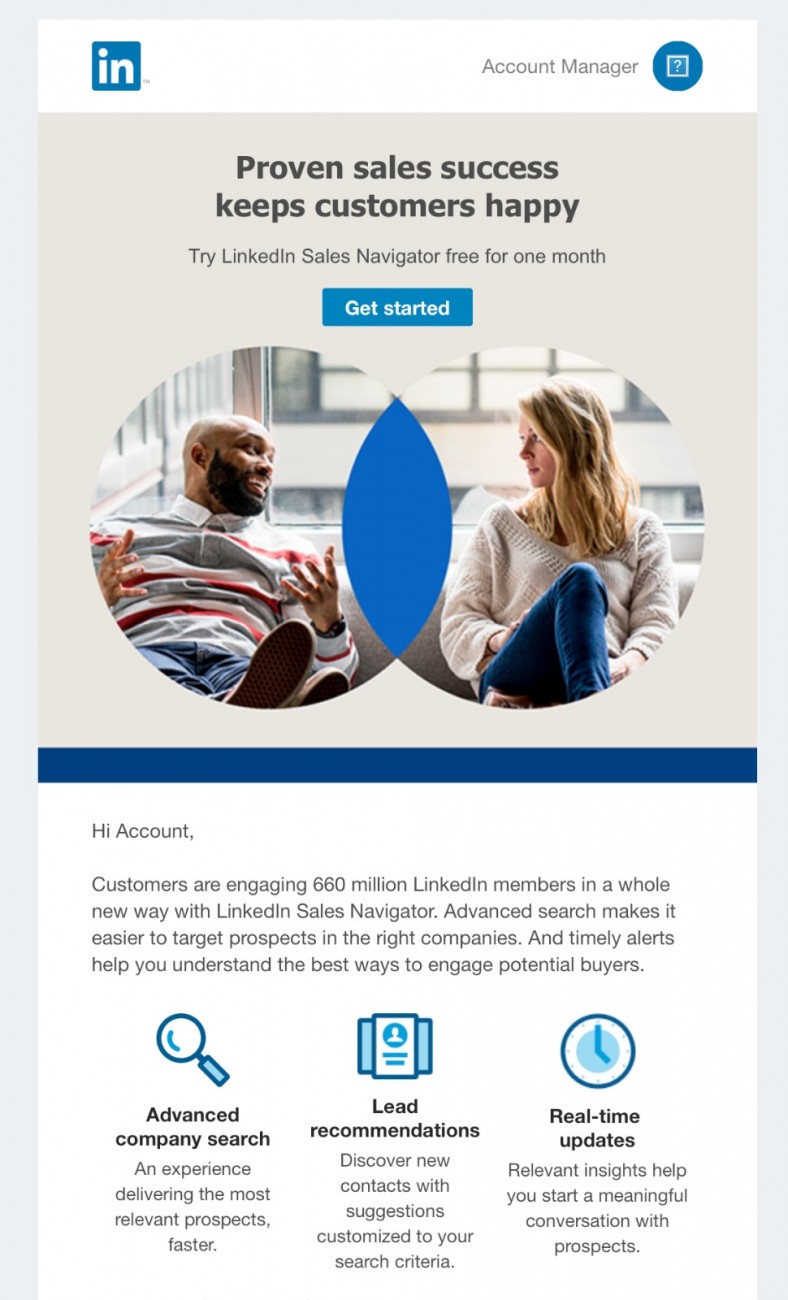 5. Personalize the content of your emails based on your segmentations. By keeping your segmentation in mind, you are able to provide the most valuable content to that specific audience.
As you can see in the example below from the styling service Stitch Fix, personalized email sequences can be guided based off of previous purchases, consumer behavior, and triggers.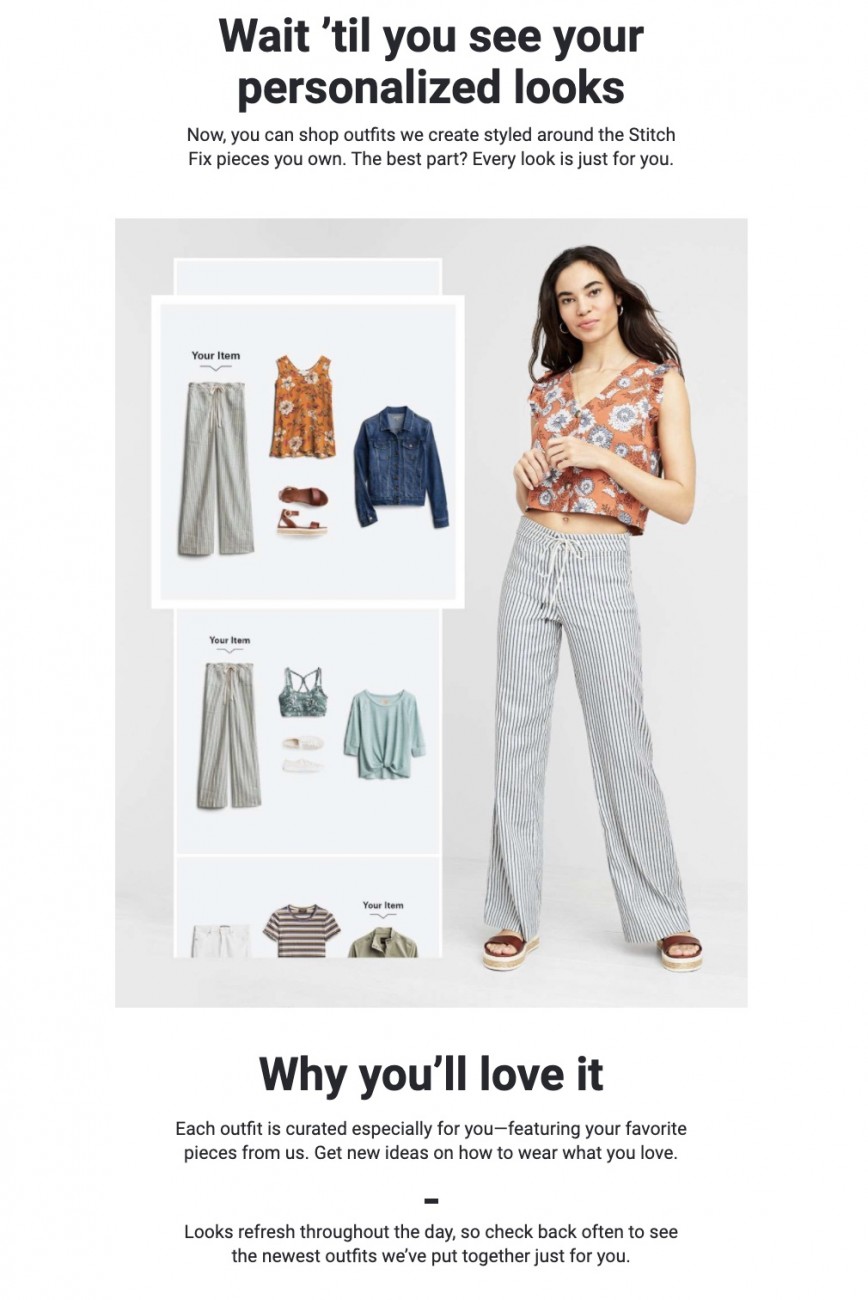 6. Use evergreen content. The idea of these automated email sequences is again, to "set them and forget them," so it is important to use content that will not become outdated or irrelevant.
7. Now that you have their attention, go ahead and sell your expertise. Why are you the best person to help them with these challenges? What can you offer that your competitors cannot? 
Personalized emails deliver 6x higher conversion rates, even though 70% of companies fail to use them.
Step 6 - Set Up Your Funnel 
If you build it, they will come? Perhaps, but you'll still need to provide them with a door to step through. This is where optimizing your funnel comes in. As you can see with the Buyer's Journey below, there are many channels into your funnel. Keeping this Buyer's Journey and the Sales Funnel in mind will guide your overall marketing strategy.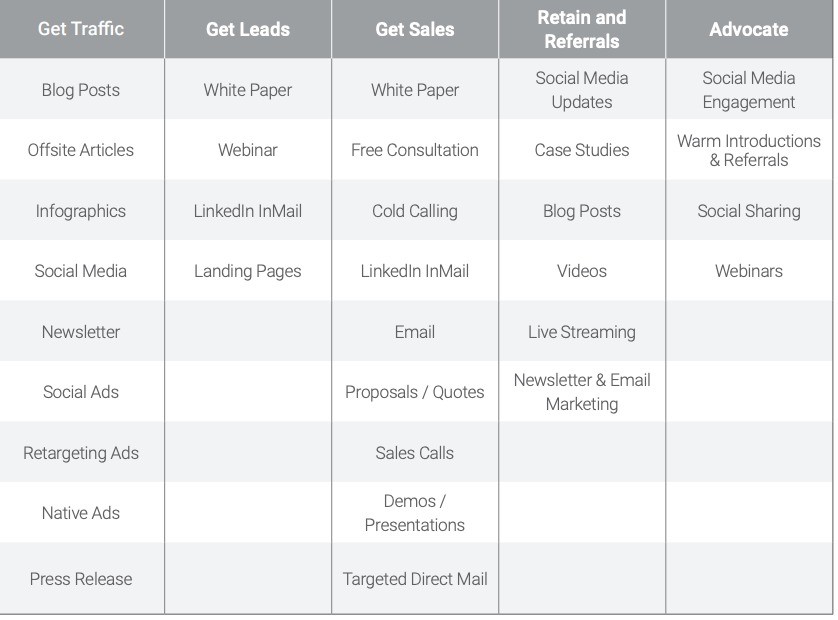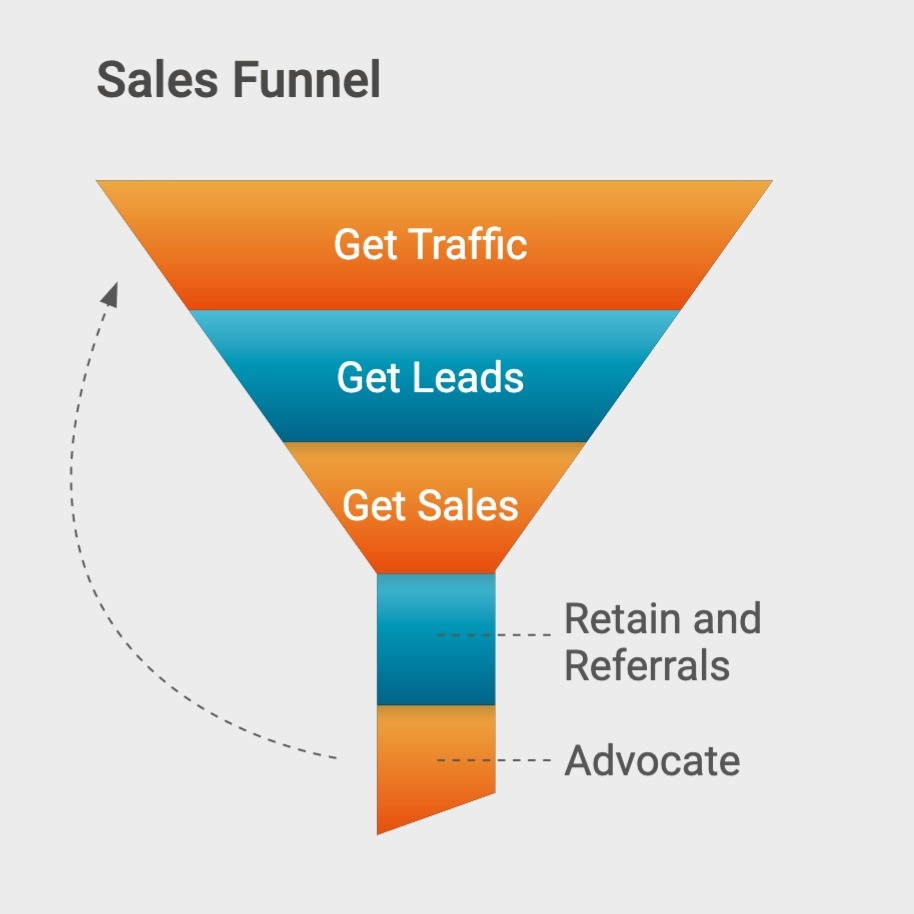 Pave the paths: Be sure to create more than one pathway into your funnel. The more, the merrier, in this case. After all, the more subscribers in your funnel, the more chances you have of converting them. 
But be selective: While you'll want more than one way into your funnel, you'll want those paths to make sense. Choose blogs, landing pages, and content pieces that are relevant to the topics discussed in your email sequence to provide customers with a seamless and cohesive buyer journey. No one appreciates a bait and switch.
Start creating: Now that you have your theme and topic for the email sequence, you can begin to create dedicated content such as blogs, landing pages, white papers, and more that support these topics. 
See our tips on Creating a Landing Page That Converts.
Step 7 - Choose Your Tech 
An email service provider, or ESP, is a company that offers cloud-based software applications that facilitate email marketing including sending the emails themselves. 
There is no one-size-fits-all ESP out there. Depending on your company's needs, you may want to choose one ESP over another. Sometimes the solution may be to combine services so that you can tap into the combining strengths of multiple ESP's. Just remember, whatever route you take, the ultimate goal is to yield the best results for your marketing campaign.
Some ESPs are better for e-commerce companies because they can be integrated into your sales data. This allows you to determine what's working and what isn't. Some are better for newsletter type campaigns, or educational campaigns, and so on.
Using a robust ESP has many benefits. 
When it's time to select your email provider, these are a few of the "must-haves" you should look for.
The option to segment based on customer behavior.

Your messages will differ based on how your customer has engaged with your brand. For example, the customer who subscribed to your newsletter should not get the same sequence as the one who abandoned their shopping cart.

The ability to update a user's correct sequence based on their interactions with your brand.
The ability to score leads based on their engagement.

At every point in the email sequence, a user is assigned "points" for engagement or actions taken within the sequence. These points, or score, allow you to see which users are more likely to close a sale.  

The option of customizable templates.

The availability of customizable templates will vary greatly from one email tool to the next, and the importance of this feature will vary just as much on your specific situations. 
E-commerce brands will want email sequences that are highly stylized to match their website in order to create a cohesive brand experience, while those in the service, technology, and other such industries will benefit from simpler, more personalized emails. 
B2B companies will want to design more personable emails, as they are speaking to other business owners and not general customers.

The ability to send broadcast messages.

Aside from your segmented email sequences, you'll likely also send broadcast messages to all your subscribers, such as monthly newsletters and promotional messages. Why not choose a tool that can execute both services?  
Don't know where to begin? Here are a few of the more popular email tools available:
Mailchimp is a great user-interface for setting up email marketing campaigns, allowing you to send emails, target and manage subscribers, offer tracking, set up autoresponders, create email templates, and split test campaigns. 
Hubspot is an inbound marketing and sales platform with a free integrated CRM, that helps companies to attract visitors, convert leads and close customers, to better manage sales and marketing activities efficiently, and nurture leads through the buyer's journey effortlessly. Hubspot features convenient integrations with robust features that even commercial CRMs do not possess.
Sender.net can be integrated with your e-commerce platform to capture customers' email addresses, utilize abandoned cart emails, set up your automated workflows based on customer behavior, and more. Convenient plugins available for Magento, PrestaShop and WooCommerce.
Other helpful ESPs:
Sendinblue
SendPulse
Omnisend
Benchmark Email
MailerLite
Step 8 - Review, Revise, Refresh 
Once you have a good number of leads in your funnel, and your email sequences have been running for a while, you'll want to analyze your results in order to adapt and optimize your strategy. 
You'll want to look at a few key analytics in order to make objective and informed changes where necessary. 
At which point in the funnel/sequence are leads starting to drop?
Which subject lines have the lowest open rates? 
Which calls to action deliver the lowest click-through rates?
Which emails brought the highest unsubscribe rate? 
Alternatively, which emails have the highest open rates? Which calls to action deliver the highest click-through rates? How can you duplicate those results?
As a point of reference, the average email open rate across all industries is 22.87%, while the average click-through rate is 3.26% across all industries.
Note that unsubscribes are inevitable. As we mentioned at the beginning of this article, today's inboxes are prime real estate for marketers, and therefore the competition for readership is fierce. However, if you are experiencing a higher than usual unsubscribe rate (0.53% across all industries), it may be time to reevaluate your strategy. Are you delivering the type of content that you promised? Is the frequency of your emails too high? Are your emails focusing on selling too soon? Are they providing value to your readers? 
In Conclusion 
While we talked about the advancement of today's technology, and how automations can greatly increase the performance of your email marketing strategy, remember that they cannot actually create this strategy for you. 
If you need help getting your segmented email sequence started, we're happy to help! Call or email us anytime for a free consultation.
We just published a 20-page white paper on helping your B2B business survive the coronavirus pandemic. You can download it here.