This month, a local publicist with a knack for creating neighborhoods is hosting events in the Arts & Entertainment District, the Miami Design District's public concert series is well worth a Friday evening, and the Bass Museum of Art has just reopened with an impressive new marketing push.
Miami-based publicist is making neighborhoods
JennyLee Molina, the owner of Miami-based marketing firm JLPR and the founder of the #305cafecito movement, has a knack for getting up-and-coming new neighborhoods off the ground, each with its unique identity and neighborhood activations. Her work has included the Leah Arts District in Hialeah, and of course Miami's Arts & Entertainment District, which has a few interesting events coming up this month. Check out the Taco Tuesday throwdown, and the Miami Flea, both in the A&E District.
Perez Art Museum Miami opens new exhibit with public community night hosted by the New Tropic
The New Tropic, a "community of, and the essential resource for, Miami's curious locals." is hosting a community night at the Perez Art Museum Miami Thursday, November 2nd, coinciding with the opening of the museum's new exhibit Dara Friedman: Perfect Stranger. Unlike the typical museum opening reception, this is free and open to the public and will include a happy hour, talk with the artist, and variety show of local Miami talent (including an interactive performance by the Florida Grand Opera!).
Miami Design District relaunches public concert series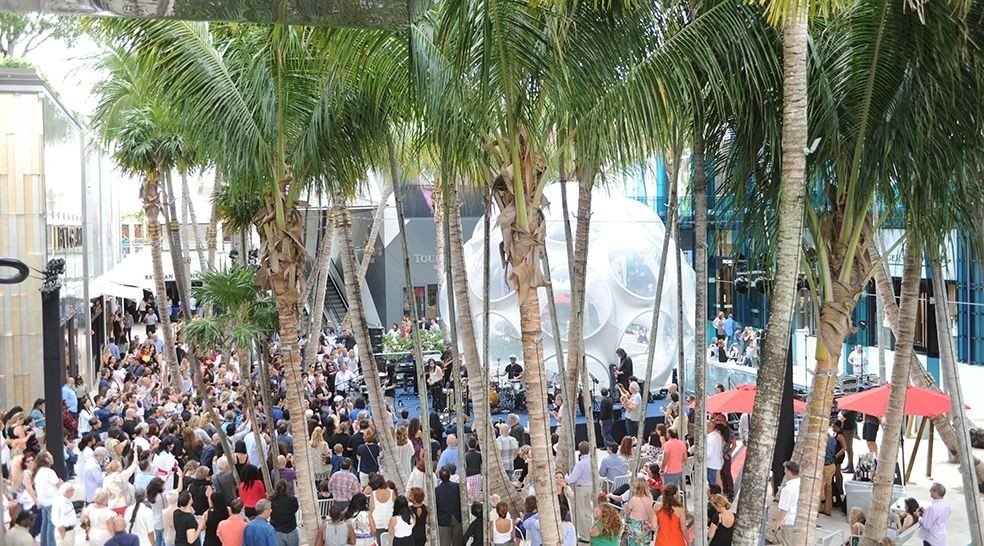 The Miami Design District has restarted its fantastic free public concert series in the Palm Court, produced by Emilio Estefan in collaboration with the Miami Symphony Orchestra. There's nothing like seeing a full orchestra perform amidst the palm trees of the district. Performances are held every Friday evening. (Photo via Miami Design District)
Design District hosts House of Peroni Pop-Up
While you're in the Design District, check out the House of Peroni Pop-Up, this November 1-4:
Debuting in London in 2013, The House of Peroni was originally established as an experience that brings one into the 'very heart of the Italian home' through Italian influencers and experiences. Its stateside debut, however, took on a new perspective, arriving in Fall 2016 as a platform to celebrate creativity in all its forms and an epicenter of modern culture rooted in the timeless ideals of Italian style. Curated and designed by renowned photographer and director, Francesco Carrozzini, The House featured collaborations with contemporary artist, Vanessa Beecroft, Oscar Award-winning costume designer Catherine Martin, and light installation artist Max Cooper. A meeting place for collaboration and inspiration, the very first U.S. House of Peroni was met with much success and applause.
Bass Museum of Art reopens with highly polished marketing push