The online game streaming market encompasses one of the most elusive and enticing groups of consumers for marketers: 20-30-year-old professionals with high disposable incomes from diverse backgrounds, and an aversion to traditional forms of media and advertising. Gaming has gone mainstream with sites like Twitch and YouTube holding massive user-bases. That's a vast and lucrative audience of consumers.
Nielsen reported that in 2016 the percentage of gamers among the general United States population was a whopping 64% and had grown reliably year over year by a percentage point or two in the five years leading up to that. "Games like DOTA 2 surpass 32 million viewers. Which makes them way more popular than Sunday night football at 20 million viewers," says Forbes.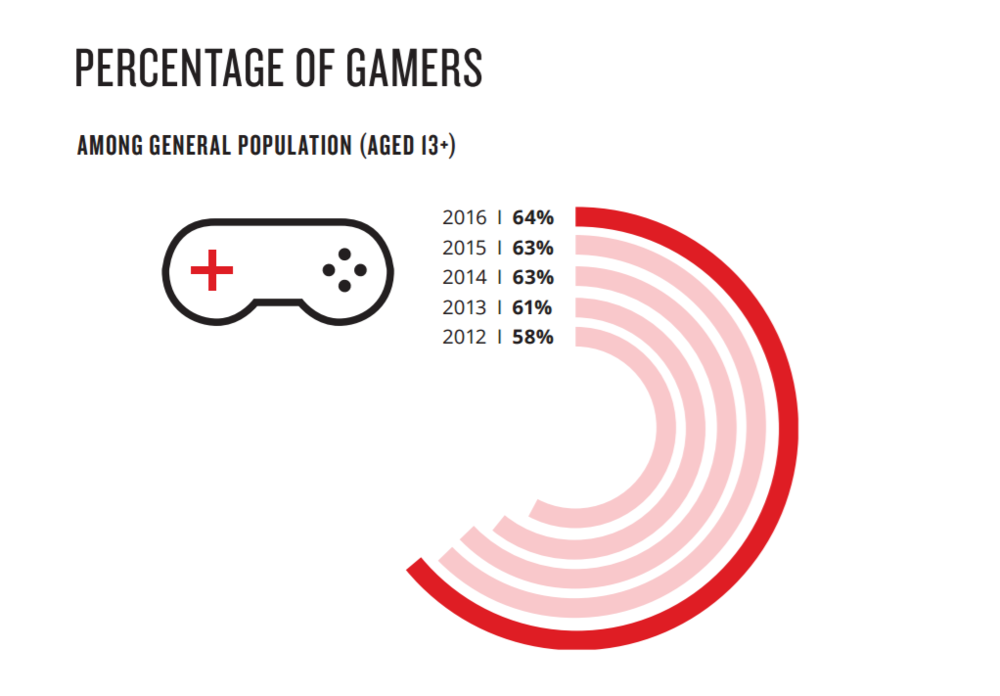 [Infographic via Nielsen]
Game streaming sites include Twitch and YouTube, where two of the top five channels with the most subscribers worldwide are game related according to Google, which owns YouTube. 'Think With Google' asked gamers on YouTube why they watch it online instead of just playing it themselves and came back with four reasons people watch gaming content. We wanted to go a step further and talk about why game streaming is something marketers should keep an eye on when looking at prospects. Here are four reasons why marketers should pay attention to gaming sites to reach gamers.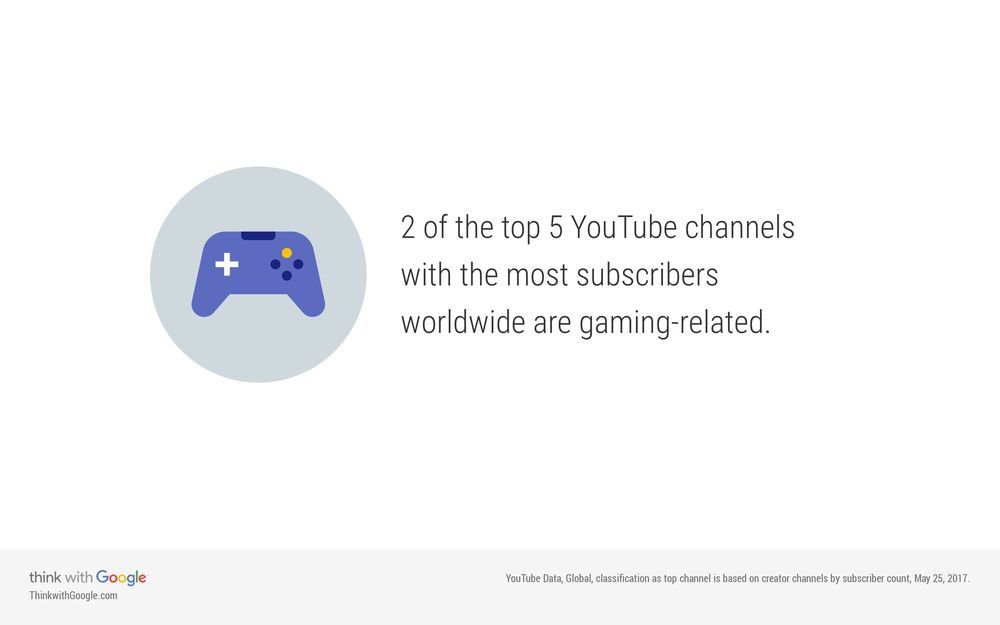 1. Gamers are part of a community
Gamers love to game, but nobody wants to be alone. There will always be a feeling of isolation, no matter how immersed you are in a game's fantasy world. The emerging community aspect of online game streaming bridges that gap. According to Think With Google:
Online communities break down barriers between gamers and allow them to celebrate the characters and worlds they love together, with other real people who feel the same way. As Salina, 25, put it, "Gaming is a simple thing to bond about, and it traverses a lot of other typical blockers for interacting with people."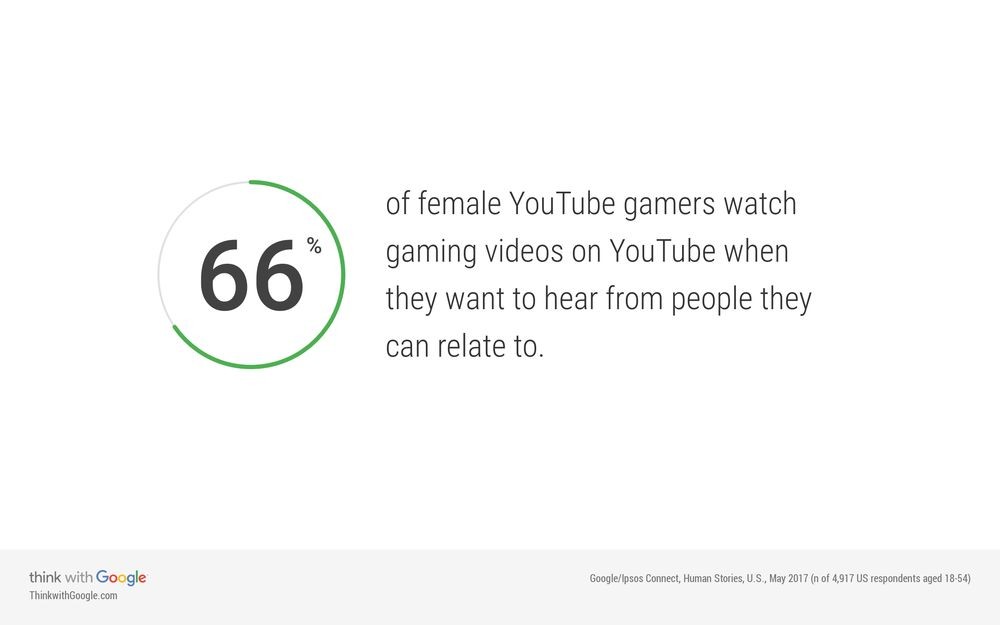 2. Gamers are a diverse and inclusive group, and they like to spend money.
When people are interacting in a space they feel comfortable, they're more likely to be receptive to brands they encounter there. And unlike the antiquated image of the geeky gamer, the actual profile of the gamer is one that transcends many demographics, Gaming is a wide umbrella under which many different kinds of people feel comfortable. As Google says:
If you're still holding on to any stereotypes about who gamers are, it's time to let them go. Gamer demographics probably aren't what you think. Today's gamers come in all stripes, and anyone you know—your boss, your neighbor, your barista—could be a gamer. As Naomi, 27, said, "It doesn't really matter what you look like or how old you are, because if you enjoy video games you enjoy video games. That's what makes you a gamer."

Inclusivity is particularly meaningful for female gamers, who have found other women to connect with and learn from on YouTube. According to Ipsos, 66% of female YouTube gamers watch gaming videos on YouTube when they want to hear from people they can relate to.5 "It's not a 'boys' club' anymore," as Salina, 25, put it. "And it's so much stronger to be inspired by someone you connect with."
Brands that connect with gamers can reach a broad spectrum of people that do, however, have few crucial things in common, like the eagerness and ability to spend money. After all, even with the increasing affordability of computers, a good gaming rig doesn't come cheap. An earlier Google study found enticing results:
Gamers are an attractive audience for a broad range of advertisers. Gamers are more likely than the general online population to consider purchasing computers, smartphones, media and entertainment products such as movie tickets, music albums, and even cars, whether for themselves or as gifts...

...YouTube Gamers are not only more likely to buy certain products—they're also more likely to buy premium products. For example, 74% of YouTube Gamers surveyed said they would pay more for top-quality media and entertainment products and services. Eighty-five percent said they are willing to pay more for top quality consumer electronics products and services. And 73% made the same declaration regarding top-quality food and beverage products and services.
3. Gamers are looking for ways to have fun.
Having fun gaming doesn't just mean playing a game. It also means following along while someone else is playing so you can enjoy the narrative, the rich graphics, or the player's responses to the game itself. "You see these people having fun and being goofy. It talks to me," one game viewer told Google.
Perhaps they're hoping to get swept up in someone else's experience and get a vicarious thrill. Jennifer, 36, said she likes gaming videos because they "put you in the position to experience something. I'll never go skydiving or bungee jumping, but my heart races when I see stuff like this."

And sometimes it's simply about taking a break. Jordan, 24, said, "I don't always want to play. Sometimes I just want to relax, watch someone else play."
4. Gamers are looking for ways to learn new skills and improve themselves.
One of the biggest benefits of the social aspect of game video streaming is learning how to improve your skill at the game.
Whether through step-by-step level walk-throughs or gamer-to-gamer character guides, gaming videos save time and energy when it comes to improving technique. According to Scott, "YouTube allows you to 'see' how to do things. It's so hard to understand something based off a manual, but with YouTube you can actually see how another gamer is doing something. That alone has helped me get better as a gamer."
Self-improvement for better performance in a game is a broad goal among game streamers and viewers. If a marketer can foster that self-improvement, they will have a major leg up connecting with those gamers.
Having done this research, we can see that Google is getting serious about game streaming and going beyond YouTube. Late last year the company purchased Chinese game streaming and e-sports startup Chushou TV, which operates a platform where gamers can live stream from their mobile phones. The potential of the game streaming market is clear.
Photo by Erik Lucatero on Unsplash